Dynamic trio rebounds back into season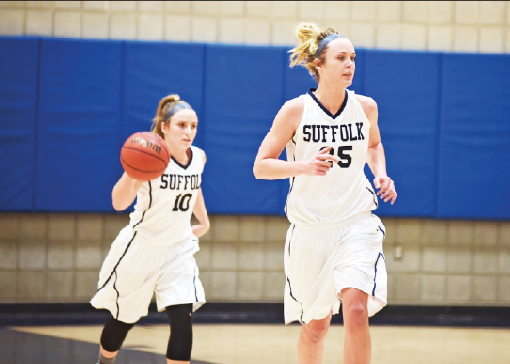 The Suffolk University women's basketball team plans on uniting together in order to secure a winning record this season. Alex Clarke, Kelsey Schiebel and Georgia Bourikas will lead the team this year as senior captains.
The team stands with a losing record of 3-4, but the captain trio does not doubt that they will be able to obtain a winning record by the end of the season. They managed to fall short to Wesleyan, Colby-Sawyer, Emmanuel and Framingham State.
"I don't think any of our losses have to do with effort," said Schiebel in an interview with The Suffolk Journal on Friday. "Wesleyan, we came back from a huge 20 point deficit. Emmanuel is just our rival team, and that takes everybody's complete utter focus, and I think we brought our game. Colby-Sawyer, I think was just a mental lapse, not only did we not bring 100 percent, but our mental effort and toughness were off that game."
The Lady Rams look to improve their record with a win on their home court against Johnson & Wales University on Dec. 7.
"We've lost to the teams that we are 'supposed to lose to,' but I think that we can turn our season around," said Schiebel. "Overall, as long as we stick together I think we will have a winning record."
The captains emphasized the importance of every member on the team contributing and sticking together. Basketball is a team sport and the trio has recognized that and plans to use it to their advantage.
"I feel like everybody plays their best game when the intensity and energy are up and everyone is involved," said senior captain Clarke in an an interview with The Journal. "That's the best feeling. So I think to maintain that level of engagement is huge, because that's when good things start to happen."
Being such a young team, with seven freshmen, Clarke explained that getting everybody on the same page offensively and defensively is sometimes difficult, but it is something that will come with time. She also said that college basketball is very different from high school, but the team has managed to slow their pace down this season in order to keep everyone on the team up to speed.
"As a team I think we are becoming a lot more cohesive, which hopefully is going to ultimately lead us to being successful this season," said Clarke. "Everyone is sort of coming into their own status or position on the team."
With the Great Northeast Athletic Conference (GNAC) Championship in mind, each captain recognized a role they have.
"On the court, I definitely don't play into my emotions as much, well I try not too," said Bourikas in an interview with The Journal. "Especially with big games you realize that you are in the role where you have to put the team first, you can't really be thinking about yourself. It's whatever the team needs that you have to fulfill."
Being a captain is a role that each of the three ladies not only obtain on the court, but also off the court.
"Off the court I feel like we all are trying to be good role models for a lot of younger kids," said Schiebel. "We really try to get everybody to buy into the team rules. It doesn't matter how much you play, we are a team, and everything that we do needs to be standard rules across the board."
Taking on the role of a captain gave each senior more responsibilities as a member on the team. They explained that they are the individuals that their teammates go to when in need of assistance, whether it would be basketball related or not. The captain title did not bring on any major adjustments for the three lady Rams.
"I feel like sometimes you don't have to be a captain for people to listen to you," said Schiebel. "We have a team where a lot of individuals are really outspoken and everybody kind of respects anything anybody has to say. Somebody that's not a captain can say something before a game and everybody is expected to respect them."
The captains stressed the importance about bonding as an entire team, but team member, Alexandra Nagri, praised the trio in an interview with The Journal.
"Kelsey, Alex and Georgia are all around team players and they lead the team by example on and off the court," said Nagri. "All three of them bring different aspects of leadership to the team with one common goal and that is to win games."
The trio wants what is best for the team. They hope to generate the positive results necessary to have a successful season. Their overall goal is to have a successful season accompanied by no regrets.
"This year is an entirely different team," said Bourikas. "As a team, we are really big into sticking together. Our true colors as a team and our chemistry will be shown on the court this season."
Leave a Comment
About the Contributor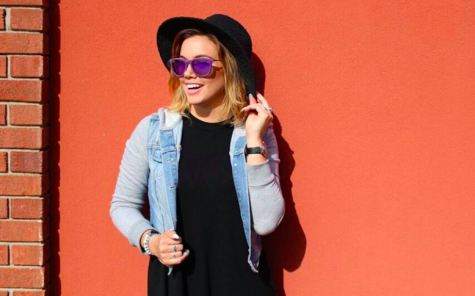 Brooke Patterson, Past Sports Editor
As a senior majoring in Journalism Print/Web, Brooke Patterson strives to not only bring a positive light to her stories, but also those around her. Despite the fact that her sports career has ended, Patterson remains involved with her love for athletics through The Suffolk Journal as the Sports Editor. She is currently exploring life in the city of Boston and will never hesitate to stop to pet a dog as they walk by her. Although Boston will forever be her home, Patterson hopes to explore and use her degree in other cities, such as New York and Los Angeles.