BLE bash promotes minors in business and real estate
Hang on for a minute...we're trying to find some more stories you might like.
The Business, Law and Ethics Department hosted the first ever "BLE Bash" on the fifth floor of Sargent Hall during activities period on Tuesday.
The BLE Bash was an event for students in Business, Law and Ethics Department to meet professors and other students within those majors, as well as make students aware that they can now minor in business and real estate.
"I think a lot of students are overwhelmed when they first come into Suffolk University with all the wonderful programs that are currently being offered," Nitsa Tsiotos, the BLE office coordinator and organizer of the event, said in an interview with The Suffolk Journal. "I think this event gives a chance for the kids to network amongst themselves and to talk about the minor programs and the different opportunities that we offer within our department."
Students listened to a variety of speakers from the BLE department to get information about classes they can take and new clubs to join.
Jason Peterson, chair and associate professor of the BLE department, first introduced the professors from the department and gave a brief background of each person so the students could get to know faculty members more personally.
Professors stepped up to the podium to thoroughly discuss the new minors Suffolk is offering and to share their experiences in the industry.
In addition to teaching, Professor John McCoy worked as a lawyer. He told the students that law is both an exciting and important career.
"I've been a lawyer now for 20 years. There are days that I regret that decision and there are days that I don't regret that decision, but it's never not been exciting. It is exciting and it is sexy and it is the reason that people are interested in law," McCoy said during the presentation. "It's the reason that 'To Kill a Mockingbird' was written, it's the reason that 'The Firm' is a popular motion picture and it's the reason that from LA law, to the practice, to most of television deals with law and lawyers."
He connected his experience in law to the business minor, reminding students that it could be helpful to them as they move further down their career path.
"The business law minor will not just give you tools that are useful in terms of law but they will give you tools that are useful in terms of analytical thinking and the way you look at life to make you more successful in your major program," McCoy said.
Professor Richard Taylor spoke about the real estate minor. He explained that a minor is a great way to blend something in with a major and give resumes more power.
"You cannot pick up the paper today without seeing something significant about real estate. Whether it's Downtown Crossing and the Millennium project, whether it's General Electric coming to Boston, whether it's the new Bruins hockey facility out in Allston-Brighton built by New Balance, every single day there's something going on with real estate in this market," Taylor said during the presentation.
Students also spoke about clubs to join that are focused on business, law and real estate.
Jack Grosser and Mike Royce, the president and vice president of the Golden Gavel club, announced the creation of the new group for students with an interest in business.
"It's just a club to bring everyone together in the business law minor to foster a sense of community," Grosser said in an interview with The Journal. "We don't have a set foundation about what the club's plan is, but we are going to see what people want and what they're interested in. Whether it's meeting lawyers who practice in the real world or getting together and talking about cases."
They were open for suggestions and looking for new members.
"It's not just people from the business law minor. We're accepting people who don't know if they want to do business law, students from the College of Arts and Sciences who know they want to do law, so we're accepting students from all sorts," Royce added.
Freshman undecided major Joe Gaudino spoke about the Future Investors in Real Estate club. He said that real estate brokers and other people from the industry come to club meetings to discuss what their job entails on a day-to-day basis. He also said it is a good networking opportunity.
After the presentation, students were able to meet with professors to discuss majors and minors in the BLE department.
"This is all about getting students to know what we offer. Getting students to know that we offer more than just two core classes in the business curriculum. We have 2 minors that are of great importance to employers, business law and real estate. And we're here to promote those two minors and what our department can do for our students," Peterson said in an interview. "The point of this was for students."
More events like this are planned for the future.

About the Writer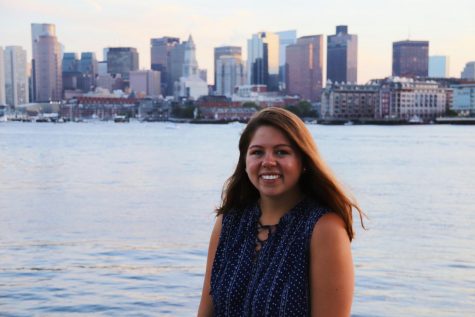 Morgan Hume, Arts Editor
Morgan is a native of Troy, New York and the Arts and Culture Editor for The Suffolk Journal. She is a rising majoring in print/web journalism and minoring in history. When she isn't scribbling into a notebook, she can be found drowning herself in cups of coffee, singing too loudly in the shower and exploring Boston, the historic city that has quickly become her home.