Campaign Commentary: Talking ballots
Hang on for a minute...we're trying to find some more stories you might like.
This November, Massachusetts residents will not just be voting for representatives, or the next President of the United States. There are four questions on the ballot this year regarding a variety of different categories.
Question 2 is one of the most highly debated issue concerning charter schools. A "yes" vote would expand the number of charter schools in Massachusetts by a maximum of 12 every year, but not to serve more than 1 percent of students in the state. A "no" vote would not change the current laws on public charter schools.
Suffolk students seemed to be very vocal in their attitudes against this question.
Senior government major Jean Bradley Derenoncourt of Brockton said that Gov. Charlie Baker's proposition of 12 charter schools each year is far too many.
"I think passing this ballot question will take money away from the public school system," said Derenoncourt
Junior Print Journalism major Renae Reints of Rochester is also against Question 2.
"I don't have personal experience with [charter schools], but I feel state education funding should go to our regular public schools," said Reints.
Arguments for Question 2 are that charter schools provide a better opportunity for a student whose public high school is in a poorer district, and would like a stronger education.
Reints added, that her public high school offered a "school choice" program, meaning that students from another school district could attend her high school, and that this would be a better alternative than charter schools.
Some voters who believe in the expansion of charter schools have plans to vote "no" on this question simply because this bill does not expand the state's education budget.
Question 4 on the ballot seems to be another highly debated issue this year. A "yes" vote would allow those 21-years and older to purchase and cultivate marijuana and products containing marijuana. A "no" vote would make no change to the current laws.
A poll done by MassINC Polling Group in early September and presented by WBUR shows the law supported by 50 percent and opposed by 45 percent. WBUR also pointed out that there is an age divide in support for the bill; a majority of voters 60 and older oppose legalization, while a majority of voters 30 and younger support legalization.
Reints is in favor of question 4. "I always figured if alcohol is legal, recreational marijuana should be legal too, she said." Reints also said that she would like to do more research into states that have already legalized recreational marijuana.
"I believe we should legalize recreational marijuana because it is not as dangerous as some folks thinks it is," said Derenoncourt.
Those against question 4 point out that the proposed tax on marijuana is at 3.75 percent. According to the Tax Foundation, the tax rates in states where recreational marijuana is legal is at 25 percent or higher, giving enough money for state and local regulation.
Question 1 would allow the Gaming Commission to expand the number of slot machines in casinos. On the state government's website, Secretary of Mass. and Suffolk Law alum William Galvin explained that a "yes" vote "one additional slot-machine gaming establishment," while a "no" vote would not have any change to the current laws.
Junior government major Peter Cutrumbes of Dracut who will vote in Boston explained why he was against the imitative.
"Massachusetts just recently shifted to allowing casinos, so I'd like to see how these work out first," said Cutrumbes.
Arguments for the increased slot machines in casinos would be that it would help the economy.
Question 3 on the ballot is concerned with the health and confinement of farm animals. A "yes" vote would prevent confinements that are unhealthy to farm animals. A "no" vote would not make any changes to the laws regarding farm animals.
Senior government major Matthew Russet from Pittsfield is voting in Cambridge and pointed out some benefits and flaws of question 3.
"I fully support animal rights in Massachusetts," said Russet, but suggested that the question has "economic implications."
Russet suggested that the cost of eggs would rise as a result of this initiative, making healthy foods less available to low-income families.
Cutrumbes, on the other hand, was passionate about question 3 and excited to vote yes on it.
"This question puts our farmers on equal footing, as well as creates better conditions for animals," Cutrumbes said.
Russet stressed the importance of doing research on the ballot questions before heading to the polls.
"While these questions may seem straightforward and narrow, more broad and less obviously outcomes could change the functionality of the Commonwealth's economy," said Russet.
About the Contributors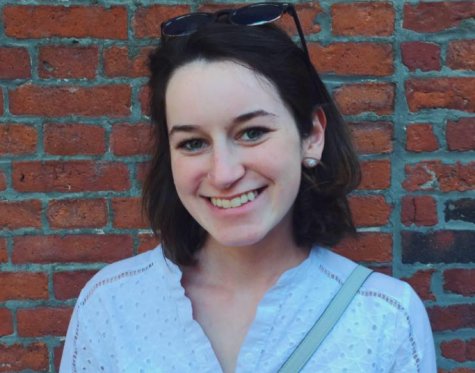 Maggie Randall, Staff Writer
Author of the column 'Political Pulse,' author of 'Campaign Commentary' written throughout the 2016 election and The Journal's Washington D.C. correspondent.