Suffolk celebrates two-year home at Rams Fan Fest
Suffolk men's and women's soccer collect conference game wins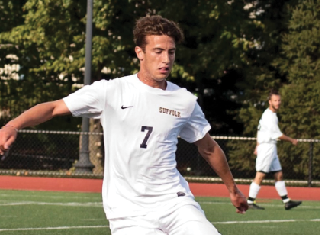 As a part of Suffolk University's Family and Alumni Weekend, Suffolk Athletics hosted their second annual Rams Fan Fest on Sat.,Oct. 15. As a part of the sporting event, the university's men's and women's soccer teams hosted conference games at East Boston Memorial Park.
Men's soccer played Anna Maria College and the women's team played Mount Ida College. Prior to the women's game, the team honored senior forward Shannon Simmons with a Senior Day pre-game ceremony to honor her soccer career at Suffolk.
In an interview with The Suffolk Journal on Tuesday afternoon.Simmons talked about the emotions she has experienced during her career as a Ram is coming to an end with three games left in the regular season.
"Soccer has been a part of my life since I was four years old, so it'll be a tough adjustment overall," she said. "My team has been the best part of my soccer experience. I've made some great friends and have made great memories over the seasons."
She said the bitter-sweet feeling that Simmons is experiencing adds to the transitional realm of being a senior. She explained how graduating will be exciting, but she will miss being on the field beside her teammates. The support from families, friends and fans at the Rams Fan Fest for the past two years has allowed the community to connect with others and catch soccer games.
Suffolk Midfielder Jordan Casey's father Steve spoke of the significance of Ram Fan Fest in an interview with The Journal on Sat.
"I think this Ramfest is a good thing; Suffolk University is definitely heading in the right direction with the program, and this event I think is special," said Casey on his son's program. "Last year there was 50 people, this year there's 250 people. Kids are working hard, and the coaches are working hard, and we're going in the right direction."
Positive reactions from fans in attendance of the event were not the only excitement present. Suffolk alum and Managing Director of Alumni Engagement for the university Caitlin Haughey, who graduated in 1996 with a Masters in Education, discussed the festivities as well as so many of the university's related events.
"It absolutely was a success. I think it will just grow from here," Haughey said. "This was the first time we were able to invite alumni back to see the new fields, to just connect with families, connect with students."
Suffolk women's soccer goalie sophomore Kirsten Weiker, talked about the team's performance and their outlook going forward in a post-game interview with The Journal.
"We showed up early to watch the boys game, to continue the support for Ramfest," she said. "And I think that just the celebration and the fans all together really hyped us up for our game, which actually helped us a lot in playing well and knowing that we had to fight hard so that we didn't disappoint everybody here."
Commenting on her team's gameplay, Weiker said, "This game was honestly a good example of how we're capable of passing and moving up the field properly, and just [playing] as a unit all together. I feel like our game today was a perfect example of teamwork and what we're capable of."
The Lady Rams played in the second contest of the day. Junior forwards Jennifer Martin and Alexandra Nagri each contributed two goals, another being tacked on by junior forward Erika Nelson as Mount Ida College fell in a shutout loss of 5-0.
Suffolk's men's soccer team defeated the Anna Maria College Amcats 5-1. Forwards freshman Christian Restrepo and senior Alberto Bittan each netted two scores of their own, as senior forward Aaron Haggas tallied the other.
"Ramfest was great, it's good to have a good turnout. [We're] 5-2 (in the Great Northeast Athletic Conference (GNAC) conference), 5-2, that feels pretty good. Team win; three points in the bag," said Haggas in a post-game interview. "We could have finished the game earlier, but we did the job in the end."
The Rams swept their opponents on this eventful day was not only a boost for the home teams, but also for the Suffolk fans to enjoy their day.
Casey Yee, a junior business major at Suffolk, commented on this in an interview Saturday.
"Ramfest is great. We come out and support our friends. My friend is on the team, it's just nice to actually have a Suffolk community," she said. "Everyone's really supporting each other and obviously seeing our team win is great as well."
Fans of every team were able to interact with the large group of spectators, as well as engage in a luncheon. Beyond the free T-shirts and weather, the focus remained on the games. Going forward for Suffolk, the regular season looks to wrap up toward the end of the month, with Weiker commenting on the remaining slate.
"We're going to try to hammer through and win them all, and hopefully get home-field advantage for [the] playoffs," she said.
Simmons is looking beyond just home-field advantage though, with larger goals in sight.
"The team is giving 100 percent effort, and we are staying focused and are just going to continue striving to achieve our goal, which is winning the GNAC Championship," she said.
Leave a Comment
About the Contributor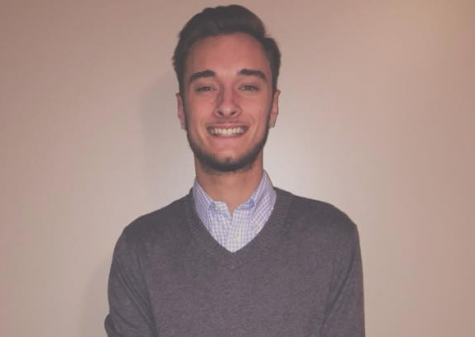 Chris DeGusto, Past News Editor
As someone who truly has no idea exactly what he wants to do in life, Chris' desire is to help those he cares about achieve their dreams. Chris welcomed a role that he never envisioned himself in; one that drives him insane.
Chris loves to tell stories, hence his passion: writing. If he's not in The Journal's office, you can find him catching up on the Sox or Celtics, studying the stock market or (unfortunately) riding the T to his favorite place in the world, Boston.
One day Chris hopes to write a book, well, actually finish a book he has already started. With a plan to travel the world and provide insight about his life experiences through his writing, Chris will always be attached to the city he calls home. And while he loves Boston more than anything, one reason why his book is not finished is because it doesn't have a suitable ending; he has a hunch that one day life will lead him to the west coast, to write him a new story.