B. Ducharme bumps up Rams volleyball
The Suffolk University Women's Volleyball team has put in hard work to bounce back from their 8-20 record last season.
So far this season, the Rams hold a record of 9-10, four of their games being shutouts. According to the Suffolk Athletics website, this is the most wins that the team has had since the 2013 season. The Lady Rams began the season with three straight consecutive wins against Massachusetts Maritime Academy, Smith College and Husson University. Their Great Northeast Athletic Conference (GNAC) record is 2-4, which puts them in eighth place in their conference, according to Rams Volleyball Head Coach, Bonny Ducharme.
Junior Heidy Barreiro is one of Suffolk's outside hitters. She said that this season the team welcomed a few new players, and most of the players have been teammates for the past two years.
"The beginning of this season was different. We all knew each other. We [have] high expectations. We want to do way better than we did last year," said Barreiro.
Suffolk's first game, a win against Massachusetts Maritime, was their first season opener win since 2011. In the game, the team had 38 digs and 13 aces. The first set was close, but the Lady Rams pulled out a win 26-24. The team continued to dominate, winning their next two sets with scores of 25-14 and 25-21.
The team's next win was against Smith College in Northhampton, Mass. This is the first time since 2009 that Suffolk has won their first two matches. Suffolk faced a fierce competitor as they won the game 3-1 in some close sets. Suffolk won their first two sets with scores of 25-20 and 25-21. They dropped the next set 25-18, but quickly bounced back to win the last set 25-22.
In the final game of their three-game win streak, the Lady Rams shutout Husson University three sets to none. Suffolk edged out Husson in all three sets with scores of 25-13, 25-10, and 25-16.
Ducharme is in her second year coaching with the team. Her 18 years of overall coaching has helped her to become involved with more teams than just one. Year-round and when she is not at Suffolk, B. Ducharme travels to fulfill her role as a USA High Performance Volleyball coach. She trains athletes in places such as California and Florida that are top ranked in the nation. After training is done, she coaches these player's tournaments.
On the side, B. Ducharme also runs a business, Dip Deep Volleyball, along with her sister and Assistant Volleyball Coach Vicky Ducharme. The business is a volleyball club for the Junior Olympics that runs from November to May. They work with kids from 10 and under, as well as kids from 18 and under. When this season ends, she runs volleyball clinics for boys and girls and summer camps that deal with specialty skills in the sport. Most of the activities that she pursues day to day involve volleyball, as this has always been her biggest passion.
"Bonny can appear to be fiery, but she wears her heart on her sleeve. She has an absolute love for this sport and for each of her players.  She goes to the end of the world for the people in her life," said the team's assistant captain, Krystal Velazquez.
B. Ducharme said that she pushes her players to be the best that they can be. A great deal of her coaching style involves setting goals for her players. She pushes them physically and mentally on and off the court.
"I'm a tough coach, but I'm a good coach where as I tell them what they're doing wrong and I also tell them what they're doing right, so I'm like their biggest fan," said B. Ducharme in an interview with The Suffolk Journal
B. Ducharme's goals for her team do not just end at making them better players. She said she teaches them skills that she hopes they can use off of the court and apply in the classroom. She talked about how important it is for her athletes to set goals for themselves academically. B. Ducharme mentioned that one of her juniors is graduating early so that she can start her Master's degree. Another one of her sophomores is taking more credits than needed, so that she may start law school next year.
"I teach them more than just volleyball," said B. Ducharme. "After college they have to have something; they can't just have volleyball to fall back on. Their academics are very important, so it's extremely important for me that I can realize that they balance both and accomplish what they never thought possible."
B. Ducharme said that last year the team had 11 freshmen, which made it hard for them to build a strong bond together. She knew that the team had a lot to work on from the previous season. She also said that they had a goal of beating their record from last year, which they have already accomplished.
"Our goal right now is to fall in the middle of [GNAC standings] and hopefully make the playoffs this year. That is our goal as team," said B. Ducharme.
B. Ducharme said that if she could, she would never stop coaching. She said that she admires her players and will always have their backs no matter what. She also said that she loves seeing them accomplish personal and academic goals that they never saw in reach.
"My favorite part about coaching is not the wins or loses, it's seeing my players grow. I think that's the most rewarding thing," said B. Ducharme.
Sophomore Volleyball Captain Bridget Allison said that B. Ducharme helps to motivate their team and make them better players. Allison, who plays both middle and outsider hitter, knows that her coach expects the most from the team, but that is what helps to strengthen their skills.
"[B. Ducharme] has very high expectations for our team. We have a team of very talented athletes and she knows what we can do," said Allison in an interview with The Journal. "She wants us to make playoffs this year."
Allison said that not only does B. Ducharme help the team as a whole, she also helps each player grow individually.
"[B. Ducharme] makes me a better player because she is always pushing me to do my very best. She is really tough because she cares and knows what everyone is capable of. At practices she creates a competitive environment so that we practice like we play in games, which makes everyone on the team a better player," said Allison.
Vicky Ducharme has coached volleyball for 15 years now. This is her first year coaching with the Rams and she helps run practices and leads on the sidelines. V. Ducharme explained that her sister's coaching style is extremely involved.
"[B. Ducharme] is a very hands-on coach and will step in and play in our scrimmages at practice," said V. Ducharme in an interview with The Journal. "She doesn't just tell, she shows, which helps the girls follow along and learn at the same time."
V. Ducharme also said that other than herself, she's never met someone so passionate about caring for her players. She said that her sister is unique compared to other coaches.
"Her personality is what sets her apart and shows in her coaching. She coaches from a position of strength and does not just to look for a win, but overall team growth," said V. Ducharme. "Her passion really shows as well."
About the Contributor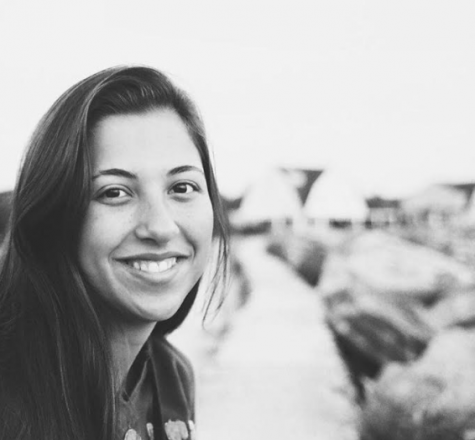 Hannah Arroyo, Sports Editor | she/her
Hannah Arroyo is a junior, the Sports Editor, and a Broadcast Journalism major who hopes to work in sports media someday. She passionately follows New England sports and can often be found exploring new spots in Boston. She enjoys going to Fenway Park, searching antique stores and pranking her friends. By writing for The Journal, she hopes to improve her journalism skills and eventually explore writing stories that differ from sports.