Driven division finds equal opportunity
Hang on for a minute...we're trying to find some more stories you might like.
The Division of Student Success is a leading collaborative effort between six departments here at Suffolk. Their mission: to improve student communication and academic success throughout the university. The division offers a new open space encompassing the notion that anyone is welcome and there are many willing to help.
"There's this wonderful thing that happened when we moved on to this floor of how people got to know each other in a way professionally. There was this great openness where everyone was working together and being open which was professionally satisfying," said Kathy Sparaco, the assistant provost of the division.
Anchored by a central reception desk, the new division sprawls out over the entire 9 floor of 73 Tremont. In the bright and open space, were the new homes of the Center for International Programs and Services (CIPS), the Center for Learning and Academic Success (CLAS), the Division of Student Success (DSS), the Career Development Center (CDC) and the Office of Disability Services (ODS).
These tutoring services, allocated to students as a part of their tuition, moved this past summer to occupy what organizers say is a more sensible and reliable space for students.
Sparaco explained just how important this move was; not only for students but for the faculty as well.
"When we started out, our main move was to get people here. But in the end, we really took on the role of working on these collaborations because it made the work not only more meaningful for the students but for [the faculty] as well," said Jill Eisenberg, associate director of CLAS, in a recent interview with The Suffolk Journal.
Sparaco oversaw what she calls the "move committee," which assembled one person from each department, including Eisenberg.
"In the process of bringing almost the entire unit of Division of Student Success on this floor, which is huge, we wanted to choose [just one] individual from each department to come together so they would be the voice and the thoughts and have everything needed to be done for the move," said Sparaco, introducing each member who became part of this committee.
She went on to say that the point of view of the committee would better exemplify the departments instead of a brief rundown. "These are the folks who bring an authentic voice to the Division," said Sparaco.
Hillary Sabbagh, an international student and study abroad advisor, noted that, "the move has definitely enhanced the student experience on campus for international students and study abroad students. We work really closely with other offices and before, we had to send students to other buildings across campus and sometimes there would be a back and forth but now it's right down the hall. It's definitely easier for students to get around." This was also a general sentiment felt throughout the committee.
"A lot of our study abroad students who need to submit a cover letter or resume, can just go to career development on this floor and I can lead them to the front desk to set up an appointment.," said Sabbagh. "So it's definitely easier for students and for [the faculty] to communicate with each other as well."
Since Suffolk is such a global campus, CLAS also works closely with international students to tutor them with their English Language International (ELI) program.
"The ELI program is a gateway program for students to work on their English before becoming a full-time student at Suffolk," said Eisenberg, reiterating the idea that these services cost nothing at Suffolk but in outside organizations, can cost a fortune. "It's an investment that Suffolk makes in the student's education because we really do want them to be successful so we want to give them the resources that allow them to do that."
Michael Connor, an alt-text specialist at ODS, said this idea of fostering an environment for the success of its students, ODS "work[s] with any students that have a disability and that are registered as a student on campus and with our office. We try to help them out as much as we can with any needs they may have." His specialty is helping students with disabilities have access to their texts 24/7 through the internet and their devices.
He also went on to say, "Our office works very closely with IT to make sure any new software on campus are accessible to students and faculty." This allows students to be fully immersed in the aspects offered at Suffolk.
"We really want to level the playing field for students with disabilities whether it be a physical or mental disability. We just want them to be as successful as possible," said Connor, enthusiastic about the new space which allows all students to be immersed in what the division has to offer. Even students with temporary disabilities, such as a broken bone or a concussion, can go to ODS for extra help such as having someone be your scribe.
An overarching theme for the division was the collaboration they obtained and the sense of inclusivity for anyone to use their resources.
The current environment is also trying to be enhanced within academic advising where they are trying to launch a new mobile app called "Guide" as well as a new advising software named SSC Campus.
"I came to our new space as an advisor and an associate director in the advising office. Just recently I've been in a new role which is the director of academic enhancement which is under the Division of Student Success," said Linda Bisconti, who, with Sparaco, is working on Guide and SCC Campus.
"SCC Campus is used to capture the conversation an advisor has with a student and it also captures information on analytics," said Bisconti. "As well, all advisors can see each others notes for a student so there is better communication. The misadvising won't happen."
SCC Campus is a better alternative to the way academic advising has been conducted in the past, explained Bisconti. Now, advisors and students alike can skip the confusion and extinguish any issues that have arised in their academic success.
"Guide is a new phone application where a student will receive applications from a variety of journeys within the university. With each area, specific notifications would go out. There will be a pilot happening in January," said Sparaco. "The Guide is about course corrections and can alleviate the bigger problems involving students on campus by reminding students about different journeys on campus."
A journey within the Guide app would be a department on campus such as Financial Aide and they would be able to send a student an alert if needed.
"It's easier than checking your email throughout the day and it just pops up on the app which is more useful," said Bisconti.
Moreover, even with helping students within their time at Suffolk, the division also holds the CDC which helps with career aspirations for after Suffolk and grants a network of connections for students who are close to graduating.
The most important aspect of the division, is that it was a collaborative effort. It didn't happen overnight.
About the Contributors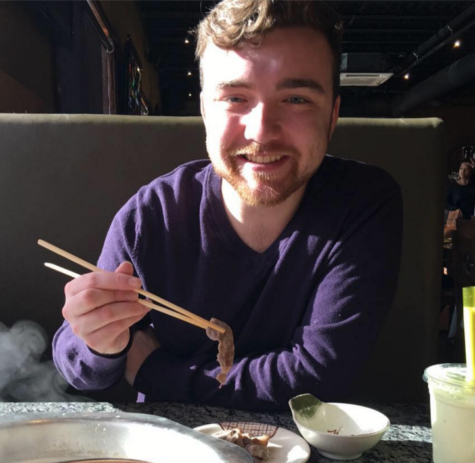 Patrick Holmes, Former Opinion Editor and Managing Editor
An advocate for human rights, Patrick Holmes aspires to help people through writing and to create that much talked about difference in the world. Through education, he sees a world that can change for the better and unite to actually be for the people. He believes every story is worth telling as long as it is the truest truth.
Holmes earned a Public Relations degree in the fall of 2018. Alongside this journey, he hopes to keep creating lasting friendships and helping people. His career path is the start to change.