Nagri doubles in more than just one major
Alexandra Nagri, also known by her teammates as Al, is currently in her third season with the women's soccer team. Nagri is a starter for the team and has recorded six goals this season for the Lady Rams winning season of 4-2. Not only is the 20-year-old a starting forward on the women's soccer team, she is also the starting shooting guard for the university's  women's basketball team.
"I definitely thought about it when I applied to colleges, but looking back I'm happy with my decision," said Nagri, a junior finance and accounting double major on life without sports.
Nagri was also a member of her high school's soccer, basketball, and track team. Sports were a major part of her high school experience, and she couldn't imagine not participating in college.
She said, "When the opportunity came to play two sports, I took it." Since then, Nagri has not looked back.
She said, "Soccer is more long-distance running, but both are essentially the same. Soccer and basketball both require strength and conditioning."
During each season, the athlete rarely gets days off. Playing sports is very time consuming, and Nagri said "I don't really have a social life."
Even if the athlete is not in season, she said that she has to stay in shape all year round.
"The offseason is mostly about working on your game and staying in shape however you think is best" said Nagri.
Her favorite way to stay in shape during the offseason is boxing at Title Boxing in Boston.
Boxing is a complete body workout for the two-sport athlete. With this off-season workout, Nagri is ensured that her body will be prepared for the upcoming seasons.
Many student-athletes struggle with finding time to excel in one sport, never mind two.
"The two seasons overlap for about two and a half weeks at the end of October," said Nagri.
When the seasons overlap, Nagri wakes up at five a.m. and heads to soccer practice. After, like many Suffolk students, she attends class. However, unlike most students, she practices for basketball in the evenings as well. If she does not have a game, Nagri still manages to participate in both sports and attend class in a single day.
"I really have to plan out my days down to the hour," said Nagri.
When it comes to soccer and basketball, Nagri always strives to be the best player and teammate she can be. She tries to remain positive while accomplishing team and personal goals. The women's soccer team hopes to make the playoffs this season, as well as have a shot to win the Great Northeast Athletic Conference (GNAC) championship.
Though Nagri views all her goals as equally important, making her team proud and going to the championship with them stands out.
"Succeeding on both the field and court are always goals I make for myself at the beginning of each season," said Nagri.
After their fourth shut-out 2-0 win of the season against University of Saint Joseph in West Hartford, Connecticut last Saturday, Nagri and her team will begin their four-game road trip. To start off the road trip the team will travel to Lasell College on Sept. 24.
View Comments (2)
About the Contributor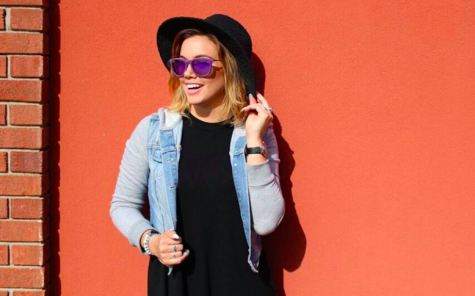 Brooke Patterson, Past Sports Editor
As a senior majoring in Journalism Print/Web, Brooke Patterson strives to not only bring a positive light to her stories, but also those around her. Despite the fact that her sports career has ended, Patterson remains involved with her love for athletics through The Suffolk Journal as the Sports Editor. She is currently exploring life in the city of Boston and will never hesitate to stop to pet a dog as they walk by her. Although Boston will forever be her home, Patterson hopes to explore and use her degree in other cities, such as New York and Los Angeles.