Commencement student speaker shares her #SuffolkStory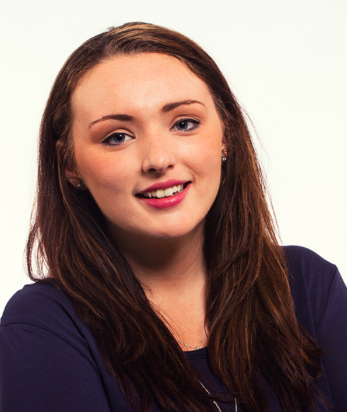 Senior Victoria Ireton will take the stage on May 22 as the College of Arts and Science's commencement student speaker, describing her experience as a Suffolk student and what motivated her work throughout her four years.
The government and philosophy double major said she shaped her collegiate career through her student leadership and the connections she made through her many positions.
"Freshman year I met Dr. Racheal Cobb, and she gave me a job in the government department planning the Student Research Conference," Ireton said. "That began my involvement at Suffolk."
Following that, Ireton became an orientation leader and the housing and facilities chair of the Student Government Association. She said her on-campus involvement introduced her to people she won't soon forget.
"Being engaged on campus has given me a network of people who are amazing and inspiring," she said, naming her fellow orientation leader Andrea Zelano and SGA President Colin Loiselle. "I think of all these people, and I wouldn't have met any of them if it wasn't for my involvement. These are some of the most inspiring people on campus."
Ireton's commencement address, she said, will follow a theme of community and inspiration, as her personal story of her two years of homelessness guided the way she approached her time at Suffolk.
"A big component of my speech for graduation will definitely be focused around community. I will be touching upon a few personal points from my own life and just how Suffolk has shaped my experience and my future," she said.
Her time at Suffolk, Ireton said, has mostly been influenced by the opportunities provided to her by classmates and faculty.
"I found so many opportunities and I've been successful in those opportunities because of the support I've received," she said. "It's been instrumental in helping me have confidence in myself because of my background and help me find those opportunities."
The many changes to the university that transpired throughout the 2016-2017 academic year did not go unnoticed, Ireton said, but the class of 2016 grew closer among the heightened sense of community.
"I think the changes definitely influenced my class in the sense that we feel more connected to the university," she said. "If anything, I think the changes show how amazing the community really is and how we really embrace what Suffolk stands for."
What Ireton feels most nostalgic about as she prepares to depart from the university is the sense of home that Suffolk has fostered for her throughout her four years.
"It is my second home, and leaving home is never easy," she said.
As the class of 2016 takes their last final exams and walks the streets of Beacon Hill for the final time as Suffolk students, Ireton urges her peers and those who will continue at Suffolk to remember that persistence should be everyone's main motivator.
"If you put in the effort at this university, you will get 10 times the return. There are many people who care about your individual success, and they'll help you reach your goals," she said.