Powerful decisions affect students' futures
Hang on for a minute...we're trying to find some more stories you might like.
Margaret McKenna is the current president of Suffolk University and I have never met this woman. As a student of Suffolk, you would think it would make sense to have at least one encounter with a prominent leader of your education and, eventually, your career.
Due to my lack of communication with such leader, it is not in my interest to talk about her. However, something that is in the back of my mind, and should be in the back of every mind of every student that attends Suffolk, is the repercussions to McKenna's decisions, as well as the recent turmoil between her and the Board of Trustees.
As a student, I am concerned about my future. Not only in a general sense, but also in a way in which I hope my university will not be detrimental to my career path.
The current situation surrounding the university's president is something all students should be concerned about. But the students should be rallying for other reasons besides the possibly impactful decision by the Board of Trustees to make our president resign.
Students should be rallying to keep stability at the university, to keep their futures intact.
Moreover, the students should be aware of the reputation of their university.
What does it say to the public when we have had four different presidents in a five-year span? (And now it's almost up to five different presidents!) For any university, that does not bode well for its reputation.
But besides its image, Suffolk and its students should be concerned about keeping the school afloat. The university's retention rate is already at 75 percent; imagine how that would change with the amount of tension and publicity the school is receiving?
I would suspect that the retention rate would decrease even more. As a freshman that loves Suffolk, I'm not looking to transfer, but what is one student against many others?
Recently, there has been uproar from students with support for McKenna and little for opposing Chairman of the Board of Trustees Andrew Meyer. My concerns do not lie within the political debacle between powerful leaders, but rather, whether my education will be as valid as another private institution's?
In my last semester of my senior year, when I will begin to search for jobs and begin my career, I do not want to be rejected because of the actions taken by my university. I do not want my diploma to have less value than one from another school.
As a student attending a private university, I am paying tens of thousands of dollars per year to receive an education that the majority of Americans are unable to. That being said, I should not have to worry about whether my education is valid or not, especially as a freshman. My money, and mostly debt, should not be going toward the salary of former presidents who the Board of Trustees deemed unfit.
Money is a constant and prevalent worry for many students. However, one of the most pressing concerns I have stems from the existence of conflicts in the first place. If Suffolk were a stable university, there would not be a power struggle, there would not be financial issues, programs would not have to be cut, and there would be a plan for the future of a university that claims it's important.
Suffolk needs to make a plan and put it into action, because it is on the cusp of losing current and future students as well as current and future faculty.
If I were someone looking for a teaching position, I would not want to apply to Suffolk due to the instability. Also, if qualified professors are thinking this way, it also has an effect on my education and that of others. If prospective professors are shying away from this university, how will I receive a genuine and substantial education that I can put to good use and be successful with?
The turmoil between the leaders of the university effects the future of every student attending. The decisions of McKenna and the Board of Trustees dictate the validity of the institution.
If my education at Suffolk is at stake, should I continue attending this unstable university?
About the Writer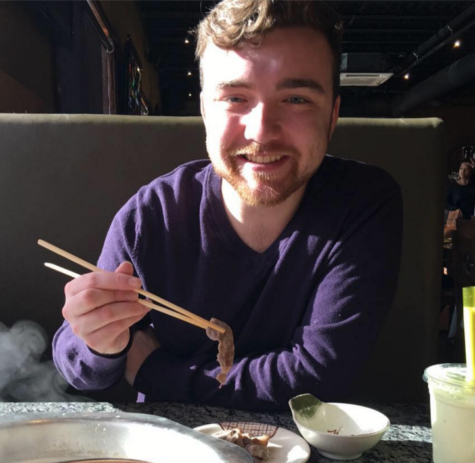 Patrick Holmes, Former Opinion Editor and Managing Editor
An advocate for human rights, Patrick Holmes aspires to help people through writing and to create that much talked about difference in the world. Through education, he sees a world that can change for the better and unite to actually be for the people. He believes every story is worth telling as long as it is the truest truth.
Holmes earned a Public Relations degree in the fall of 2018. Alongside this journey, he hopes to keep creating lasting friendships and helping people. His career path is the start to change.