Community gathers in final farewell
Not one seat was left empty for the memorial service of the late NESAD professor Paul Andrade. Deep inside the fourth floor of 75 Arlington St. on Friday night, colleagues, family, students, and friends gathered in remembrance of Andrade's life and passion for teaching.
"We gather here to celebrate a life of Paul," said Reverend Amy Fisher. "We come together in grief, acknowledging our human loss. May we, who are in pain this evening, find comfort through this community."
Dean of the College of Arts and Sciences Maria Toyoda, who was also presenting as one of the speakers at the memoriam, explained she never actually met Andrade but understood that he was a loving father, colleague, and professor who was dedicated to all of the work that he touched.
"It's fitting that we come together in this corner of Suffolk University in New England School of Art and Design where Paul spent most of his time," said Dean Toyoda. "It's fitting, in a way, because it's an innovative, intimate, colorful, crowded, and often chaotic space. And it's a metaphor for the kind of community that Paul was a part of."
Said Toyoda after she turned to Andrade's wife, Shelly, and two children, Nick and Jackie, "Paul played a very central role here in the Suffolk community."
Illustration major Kaelie Martin reflected on Andrade's teaching philosophy, which can be found on his faculty page, to the audience members and discussed how she started working with him in the woodshop.
"Within 20 minutes of meeting him, he convinced me to quit my job at the Suffolk Call Center and start working for him in the woodshop," she said. "He had faith in everyone."
Tears filled the audience members' eyes.
James Helenski, who recently graduated from Suffolk in May, described Andrade as the most important person to have as a mentor during their foundation year at NESAD, especially coming to the school with little experience because of the small fine arts program in their high school.
"To have someone who was so excited about everything you did was refreshing," said Helenski. "Paul treated all of us as equals."
When recalling how Andrade embraced his students' ideas, Helenski laughed. "I've never heard him say the word no, and no one left that space unsatisfied."
Senior Lecturer in the Fine Arts and Foundation Studies department Bebe Beard recalled her first teaching job at Suffolk while working with Andrade.
"It was my first teaching gig, and here this guy is dragging trees in from the Boston Common," laughed Beard. "It was clear from the get-go that he was our wild child."
Helenski has been filling in as the temporary workshop manager since a week after Andrade was killed in the accident.
"I'm hoping that I will be brought in on a more permanent position, because it's certainly nice to be in that space again," said Helenski in an interview with the Journal. "It's nice to give back to NESAD since my experience here was so transformative."
Though Andrade's position will be a challenge to fill, Helenski is prepared to rise to the occasion.
"I'm dedicated to the workshop place," Helenski said.
Helenski created a plaque for the woodshop, which will now be dedicated to Andrade and his teachings. The plaque was presented in front of his family and the rest of the audience members.
"Andrade stuck out the most to me," said Helenski. "He was genuine with his relationships with his students."
Leave a Comment
About the Writer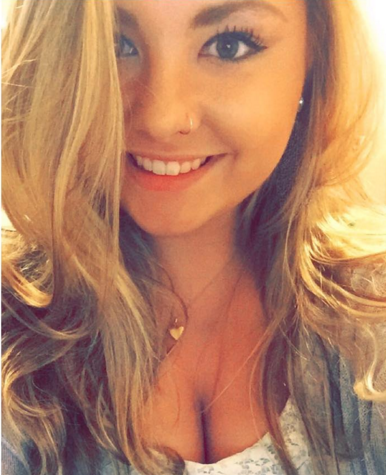 Alexa Gagosz, Previous Editor-in-Chief
Former Editor-in-Chief of The Suffolk Journal, fighter for equality and former World News Editor. Most likely found in The Journal's office, getting lost in the Massachusetts State House or frolicking around Boston Harbor. Thrives off of investigation pieces that consume her.