Technology experts on copyright and a computer-controlled society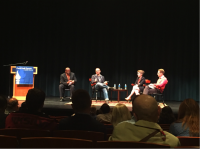 By Danielle Silva
How does technology affect our lives? Tuesday's Ford Hall Forum, "The Remote-Controlled Society," explored this question, discussing copyright laws and how technology is taking control of almost every aspect of life.
Speakers inquired into how the advancement of technology poses many societal questions.
"We are surrounded by little computers that fit in our pockets and control our entire life," said Leonid Reyzin, a computer science professor from Boston University. "Should they be trusted with that kind of responsibility? And more importantly, can we trust the companies that fabricate those devices?"
The panelists delved into how the copyright laws affect technological advances, information-sharing, and their effectiveness in the future.
Cory Doctorow, a science fiction writer and co-editor of "Boing Boing," a tech blog, mentioned the "original copyright sin" society committed during the first years of the Internet: the Digital Millennium Copyright Act. The act criminalized the theft of someone else's copyrighted materials and production and distribution of technology that may be used in the process of stealing.
The DMCA also increased the penalties for copyright infringement. Though Doctorow is one of the supporters of free sharing of all digital media, he said that as an artist, he supports the DMCA in a selfish way.
Rebecca Curtin, assistant professor of law at Suffolk, introduced a legal perspective, discussing how the DMCA is ineffective due to its stiffness and how it gets in the way of healthy competition between companies. She referenced the Volkswagen scandal, in which the company's cars had devices that fooled the diesel emission regulation test.
Curtin said that the laws provide some comfort to the customer but no protection whatsoever against this sort of concern. Manufacturers build digital locks on their devices' breaches, making it impossible to find their vulnerabilities. Breaking those locks, or trying to, would be infringing the DMCA.
Associate Professor of Information Systems at Suffolk, Benjamin K. Ngugi, said that artificial intelligence is a sure thing in our future and asked who would own the copyrights to that. If our own copyright law is not working now, he said, it will likely not work in the future.
"Whose interest is digital rights management solving? And who will save us from them?" he asked.
Doctorow explained that copyright  laws are no longer exclusive to entertainment. He mentioned one can risk getting arrested simply for writing Harry Potter fan-fiction.
Doctorow left the audience with one final, overarching question.
"How do we create laws and regulations that satisfy the complexity needed for industrial copyright, but also are simple and flexible enough so that a child may understand them?"
Leave a Comment