Pro Sports Column: Starter predictions for upcoming season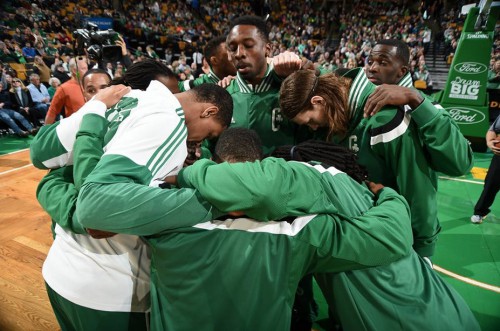 By Christian Nagle
On Tuesday Sept. 29, the Celtics held an open practice for its season ticket holders. The event consisted of a three "quarters," eight-minute scrimmage between two teams, "Team Green" and "Team White."
Both teams were chosen by head coach Brad Stevens, which gives us an implication of at least two potential starting lineups that we may see during the season.
Looking at both teams, it looks like Coach Stevens was trying out two different styles of play.
Team Green is more of a 'spread the floor,' offensive team with all of these players having some sort of three-point shooting ability.
Kelly Olynyk knocked down two threes during the scrimmage, and Jonas Jerebko demonstrated his three-point abilities on multiple occasions last season. This opens up the court for point guard Isaiah Thomas to attack the basket and draw fouls that will get him to the free throw line. It also helps that Isaiah Thomas and Kelly Olynyk are known to be an exceptional passers which creates better looks for the rest of the team.
As for the defensive end, Thomas is a little undersized, so his defense isn't always the most reliable. However, that is made up for with Jae Crowder's lockdown perimeter defense and Amir Johnson's rim protection.
Team White looks a lot like a traditional NBA line up. A definitive point guard in Marcus Smart, a clear shooting guard in Avery Bradley, an all-around small forward in Evan Turner, a rebounding machine power forward in David Lee, and a center who is adept at altering shots in the lane in Tyler Zeller.
On the offensive side, both Marcus Smart and Evan Turner have the passing abilities to take control of the ball handling responsibilities.
When it comes to scoring, Avery Bradley can shoot from almost anywhere outside of the post and David Lee can score from anywhere within ten feet of the basket.
The defensive end is also covered with both Marcus Smart and Avery Bradley's defensive prowess on the perimeter and David Lee's abilities to stop almost anything in  post.
Players that came off the bench included veterans, so to speak, F Jared Sullinger (White), G James Young (Green), and F Perry Jones (White) and rookies G Terry Rozier (Green), F Jordan Mickey (Green), and G RJ Hunter (White).
While the new additions such as Perry Jones and Rozier made an impact on the game for their respective teams, the veterans of the team such as Sullinger and James Young failed to impress. Rozier came off the bench, scored a few threes and showed off his speed in transition.
Perry Jones also hit a few threes when he came off the bench fighting for a roster spot and trying to carve out minutes in the rotation.
As for Jared Sullinger, he came off the bench looking a little sluggish despite the drop in his weight during the off-season. He also had four fouls called against him, which is never a good sign.
The time that James Young has put into his development wasn't really shown either as he missed a few of his 3s but managed to drive to the basket a few times and score at the rim.
Both teams looked like examples of Brad Stevens' ability to analyze players and use them together to produce lineups that mesh together perfectly. This also creates Brad Stevens biggest challenge this season because the Celtics seem to have an abundance of players at each position, and all those players seem to fit into one line up or another that works well together.
Leave a Comment