Straw company for sustainable sipping
In 2005, junior Alex Bennett, an entrepreneurship major at Suffolk was given a pack of drinking straws made of straw by his mother in Germany, where his family lives. These naturally grown straws caught his eye, and over the next 10 years he thought about drinking straws for an unreasonable amount of time.
Bennett said he noticed that though it was a product with potential, it lacked the right target market. So he developed a consumer market — mixology and sustainability — and formed a partnership with his mother to start producing the straws in the United States.
Bennett eventually launched Straw Straws, the natural drinking straw company, and currently has four farmlands in Maine where drinking straws are produced. He shared that he works with several researchers at the University of Maine and Rusted Rooster Farms.
The success of Straw Straws is essential to reducing the 500 million plastic straws used by Americans each year, which, according to ecostyle.org, can fill 127 school buses each day.
Currently, there are other reusable, biodegradable, and environmentally-friendly options like metal straws, bamboo straws, and paper straws, but Bennett asserts that the naturally-grown straw is the best option.
"Reusable drinking straws of all types are available and certainly, if utilized, would reduce waste. However, they are very challenging to clean, which can pose an insurmountable flaw when used by some potential customers," he said. "Most notably, restaurants and bars cannot handle the extra work and attention to detail of cleaning them."
During the summer, Bennett and what he calls the "Straw Team," which consists mainly of Suffolk students, worked very hard to promote his green start-up. He said the team met every Tuesday to discuss plans to promote the company and succeeded in getting the Straw Straws kickstarter funded, raising $13,953.
Bennett spoke very proudly about his team.
"All of the people working with me are amazing. We all learned a lot together and the amount of deliverables that the team produced was impressive," he said.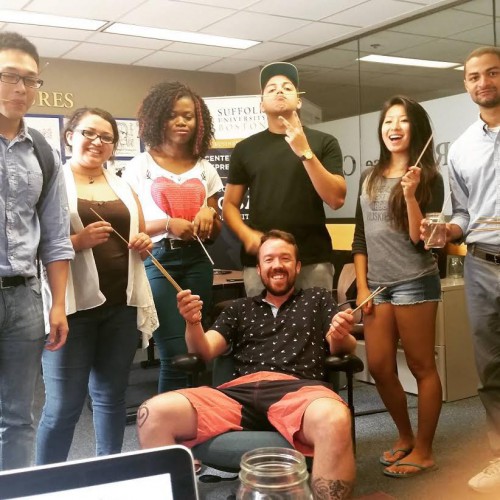 Reflecting on their internship with Straw Straws, the Straw Team emphasized that it is a good experience considering the amount of work that goes into start-ups and what is needed to make it successful.
Simon Han, a senior at Suffolk studying sports marketing with a minor in ISOM, said he gets "hands-on experience" and learns "about how a start-up starts and grows."
Celia Mitchell, a graduate of UMass Boston and the Straw Science Director, also added that, "working with people of completely different educational backgrounds has been great because I have been able to see how our different studies compliment each other and how being a part of such a diverse team is what makes the company."
"From the start of the internship, I felt like I belonged there and learned to embrace, develop, and apply my abilities in a team setting," she said.
Ivan Lanz, a Suffolk senior and street photographer, said he enjoyed "being a part of a start-up that has so much potential."
The Straw Team also improved their professional skills through an organizational development director working for Bennett. They received expert tips in planning their career path during and after college.
According to Mitchell, her "communication skills have become more developed" and she has "been able to learn more about market research" and broaden her "science research skills."
Bennett is also appreciative of the support Straw Straws has received from the Suffolk entrepreneurship department with many professors advising the direction  in which the company should take.
Bennett said Straw Straws has faced and continues to face challenges as the company grows. Nevertheless, Bennett vows "to meet upcoming challenges"  with ardor and "fight for sustainable sipping."
He said his leadership style was influenced by the enlistment he recently completed in the Marine Corps, receiving an honorable discharge after two years as a sergeant.
Bennett emphasized his passion for making Straw Straws a success and said he "will not stop pursuing it." His advice to other students who have similar dreams and aspirations is to put the company before you.
"A company is not about you but the product, the customers, and the time you put into it. In order to succeed, one has to be selfless in the start-up process."
Leave a Comment