Margaret McKenna was recently appointed as the tenth president of Suffolk University, marking yet another change for the university, an institution that has experienced several significant changes over the last two years.
Despite the frequent administrative changes and turnover, some students believe third time's the charm and McKenna will diligently work toward innovation and change while ultimately holding the interests of student and staff of utmost importance.
"I had the opportunity to meet and speak with Ms. McKenna and she demonstrated an understanding of the issues that this university faces and a willingness to go above and beyond to address those issues," said Colin Loiselle, president of the Student Government Association. "I commend the Board [of Trustees] and the search committee for bringing her forward and naming her the next president of Suffolk University. I look forward to meeting with her this summer and getting to work," he said.
In addition to SGA extending their congratulations and excitement, Joshua Willis, senior President of Beta Alpha Psi, Suffolk's accounting honors society, also shared his enthusiasm on the newly appointed president on behalf of the club.
"Given her success at Lesley University, we believe that her expertise will advance the connection between students and faculty. This is a great opportunity to help push Suffolk University to the forefront of the Boston schools," said Willis. "We want to continue to connect our student body with the various professionals in the city of Boston."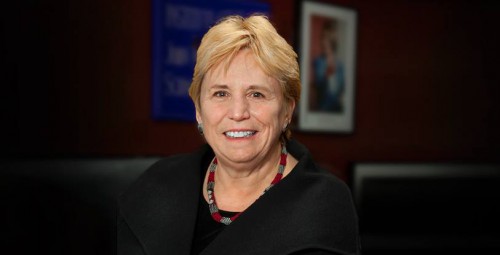 In addition to students' positive outlook on their new president, McKenna herself has emphasized the student-centered nature of her work and the importance of being a present and accessible figure on campus.
"I have always enjoyed my contact with students," said McKenna in a previous interview with the Journal.
Mckenna also expressed her enthusiasm on meeting Suffolk's incoming class of 2019.
"We're going to support you in all the ways that are necessary to make you successful. It is important to provide that support and opportunity. You're in an incredibly exciting place, take advantage of it," she said.
Although she is eager to meet the incoming freshman class, McKenna also noted her excitement on interacting with the upperclassmen as well.
"I want to get their wisdom and their advice. They've learned a lot and they're a real resource," she said.
Although McKenna's official start date at the university has yet to be confirmed, she has taken an interest in the new student orientation program and hopes to be a part of it in some way, most likely in August.
"I'd like to be there for some of it to see it and participate if it makes sense," she said.