Amid many changes, university's leadership transitions quickly
The past two years have introduced many changes to Suffolk University, and a pattern seems to be emerging: out with the old, and in with the new.
November 2013: A new academic building at 20 Somerset Street breaks ground.
The new construction, neighboring the Frank Sawyer building and set to open in fall of 2015, will be home to the communication and journalism department's media labs and classrooms, a full dining hall and ample student space, including an outdoor courtyard.
Before his departure from the university, former President James McCarthy in an email to the Suffolk community said, "We'll have a state-of-the-art facility with new general-use and science classrooms, a cafeteria space that can be adapted for university functions, and indoor and outdoor lounging spaces."

Feedback of 20 Somerset was positive when staff of the CJN department took a tour in April. They are hopeful that the unveiling of the building next semester will live up to their expectations.
January 2014: The John E. Fenton building is put on the market.
Home to the English and math and computer science departments, the building was sold on July 16, 2014. Faculty offices moved to 73 Tremont and classes were dispersed among the university's remaining academic buildings.
August 2014: President Norman Smith takes over the university as interim president following the untimely exit of James McCarthy.
Smith's abrupt entrance into Suffolk, was initially seen as a beneficial decision by the Board of Trustees, who in a statement said the Suffolk community was "excited and fortunate" to welcome Smith as president. Smith made progress quickly after his introduction, spearheading a new Suffolk and campaign to replace an older, less notable one.
A new logo brought about a smaller change to the university. Before October 2014, Suffolk was represented by a logo depicting a shield and flame. The new logo is an image of a coat of arms dominated by a burning torch in the middle with the addition of the word "Boston" accompanying it.
February 2015: The Frank J. Donahue and Hiram J. Archer buildings are placed on the market to the surprise of students and staff.
The buildings, home to many student areas, university offices, a café, and two theaters, were put up for sale in an effort to move the university off of Beacon Hill and closer to downtown Boston.
John Nucci, vice president of government relations and community affairs, believes the shifting of academic buildings will provide the university with a more prominent position in Boston.
"I think we're about to see some very positive and significant changes in the footprint of the Suffolk campus," he said. "It will give us a smarter and more efficient footprint in Boston."
April 2015: Maria Toyoda is named as the new dean of the College of Arts and Sciences.
This announcement came after former Dean Kenneth Greenberg announced earlier in the year that he would be stepping down to return to teaching.
May 2015: After a diligent hunt for a permanent president of the university, the presidential search committee named Margaret McKenna, former president of Lesley University, as Suffolk's next leader.
Andrew Meyer, Chair of the Board of Trustees, said in an announcement to the university that McKenna's "experience, innovative ideas, and bold approach to addressing the challenges facing all of higher education" made her a fitting choice.
Just days after Suffolk gained a new president, Andrew Perlman, a law professor and director of the Institute on Law Practice Technology and Innovation at Suffolk, was named dean of the university's law school.
That made three leadership changes in just two months, a shift that may have seemed unprecedented a few years ago.
Nucci said that although the university is transitioning quickly, the progress that has been made in the last two years will ultimately lead to a better campus all around.
"I think it's an incredibly exciting time for Suffolk University. The arrival of two new deans and an exciting new president promises great opportunity for the future," he said. "This is a good time to be a part of Suffolk University."
Leave a Comment
About the Contributor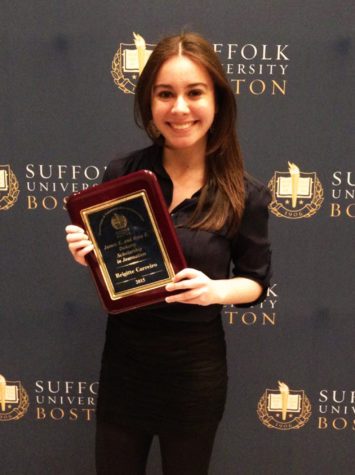 Brigitte Carreiro, News Editor
News Editor for the 2015-2016 year, print journalism major and intern at the Improper Bostonian magazine.