Outside travel becoming main focus of studying abroad
Studying abroad in Madrid used to mean just that – studying in Madrid. More recently, however, students studying abroad have taken advantage of their time away by traveling to many more places outside their program location, making study abroad programs that much more exciting.
For junior Megan Duchesne, travel was always a top priority when she decided to spend the spring 2015 semester at John Cabot University in Rome, but the large amount she traveled was a surprise.
"I knew I was going to travel a little bit, but I didn't know it was going to be that much," she said. Duchesne came back to the states with six different countries added to her passport.
Suffolk's study abroad advisors encouraged their students to take advantage of traveling.
Duchesne said that advisors told students ahead of time about how they would catch the travel bug.
"It's one of the main things they told us, that you're going to end up traveling a lot but to still spend time in your home city, and to travel as much as you can," she said.
Duchesne said her favorite part of her study abroad experience was the amount of traveling she did, but spending time in Rome created some of her best memories.
"You never knew what you were going to end up doing, but it was always an adventure," she said.
Travel was a major part of junior Madison Raymond's time abroad as well. Spending the spring semester at Suffolk's sister campus in Madrid, Spain opened up lots of opportunities for Raymond to travel around Europe, which she said was exactly what she expected.
Raymond noticed that recent study abroad students have considered travel more of a priority and desire than past students have.
"It's so different. Most people I knew, we traveled everywhere. People I talked to in the past, they never really traveled as much."
Though thrilling and rewarding, traveling as much as students do takes a toll.
"[It] was exciting at first, then it's tiring, because every weekend you're going somewhere different," said Raymond. "Coming back and having to go to school was hard."
Even initial anxieties about studying abroad stemmed from travel concerns more than anything else. Duchesne said she was most nervous about finding friends to travel with.
Ultimately, visiting places outside of their program location brought about lots of benefits for students. Duchesne said traveling brought out the best in her while she was abroad.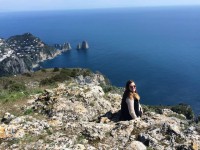 "It definitely made me more independent. I'm open to anything and different cultures now that I'm home. I'm looking at things differently," she said.
Studying abroad and trekking throughout Europe brought both students more of an appreciation for the world and taught them to open up to new cultures. Raymond said she will apply her study abroad experiences to her major.
"It definitely has given me more perspective of the world, seeing as how I want to study business," she said. "You wouldn't expect it to be so different, but it is. They're much more creative [in Europe]. It just made me think the world is a lot bigger than just the U.S."
Though both students described coming home as "bittersweet," they said that studying abroad was a fulfilling experience.
"Every single thing I did taught me something," said Raymond. "I learned so much about the world."
Leave a Comment
About the Contributor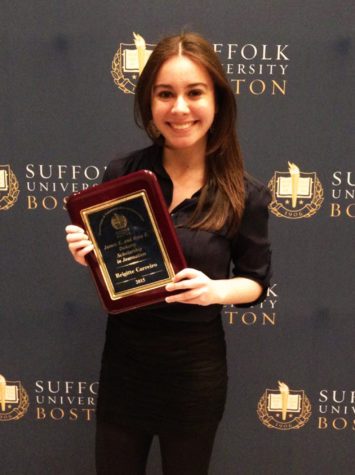 Brigitte Carreiro, News Editor
News Editor for the 2015-2016 year, print journalism major and intern at the Improper Bostonian magazine.