Student sculpts marble overseas, refines skills
Gypsies commonly roam Italian cities and Florence is no exception. While these wanderers may be avoided and ignored, junior Haley Cormier was able to use them as inspiration for her art. Clad in garb made up of long, velvety skirts, the gypsies made up much of Cormier's craft while she studied at Studio Art Centers International during her semester abroad spring.
Cormier, a fine arts major at the New England School of Art and Design, had never been to Europe before, and found that influence was around every corner.
"I'd say the people and street art definitely gave some inspiration for my stuff," said Cormier, describing what she saw on a daily basis while in Florence with admiration in her voice. "I did a lot of etchings of gypsies that are really common there … Then there was this one street artist, he painted these little guys holding onto red balloons. They were just everywhere in the city."
SACI, an institution geared specifically toward art students, gave Cormier the opportunity to expand her artistry. Her art-based curriculum included etching and sculpture classes, with sculpture being what she enjoyed the most.
"I got to carve in marble for the first time, so that was pretty sweet," she said with a laugh. "And it's definitely something I want to continue. I've never needed to use that mindset you need for carving before, so I really liked it."
Cormier described how carving in marble allowed her to refine her skill in subtractive sculpting while she was in Florence.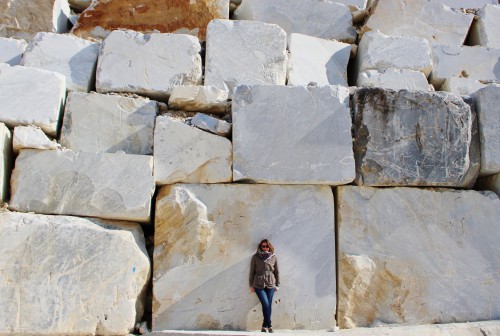 "You really have to visualize and plan out how you are going to go about carving. So if you break something off or take off too much, you have to go back in and rework the whole piece," she said.
Traveling was part of Cormier's plan for her semester abroad before even setting off to Italy, and said she got the most out of her time away.
"Everything was just so new … Every time I got on a plane or went to a museum it was exciting," she said. "It was definitely something I wanted to do.  I had some top destinations."
Although classes were the main focus during the semester, Cormier still found ample time to explore everything else Europe had to offer. She counted off all the countries she visited, ending with a grand total of nine, including her favorites of Holland, Lisbon and Portugal.
"[Lisbon] was by far my favorite. They make it such a community setting," she gushed, referring to the Portuguese families she met while staying in a hostel.
Cormier said she had some specific places in mind that she made sure to visit before the semester was over, one of them being Keukenhof Park in Holland, a garden known internationally for its impressive display of flowers.
"It's a huge park just filled with flowers and tulips. We were maybe a week or two early to see everything in bloom, but what we did see was gorgeous," said Cormier, speaking in an awestruck way that demonstrated how intrigued she was by what she saw.
Studying abroad opened Cormier's eyes to the world and what she could possibly gain from it. After pausing thoughtfully, she said the biggest benefit she got from being abroad was the independence that comes with traveling.
"I think I learned a lot about myself, a lot of things I wasn't expecting," she said. "Especially traveling, having to plan out the whole trip myself. [There are] all the little things you don't think of, like getting from the airport to where you're staying."
To Cormier, being an artist abroad was both culturally and personally rewarding.
"It all really makes you think. It's exhausting, but in the best way possible," she said.
Leave a Comment
About the Contributor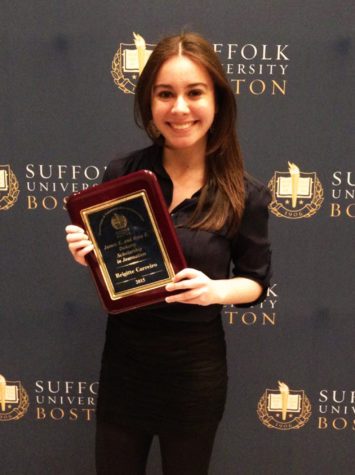 Brigitte Carreiro, News Editor
News Editor for the 2015-2016 year, print journalism major and intern at the Improper Bostonian magazine.