The Project Runway designer speaks to students about his life, inspiration
Article by: Angela Bray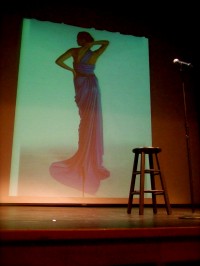 Unity Week at Suffolk had a huge pull Monday night with Project Runway's second season contestant Nick Verreos who spoke at the C. Walsh Theater.
The Program Committee, Student Leadership and Involvement and Office of Retention Services brought Nick Verreos to speak to Suffolk students. After appearing on Project Runway's second season, Verreos received both national and international attention, and is also known as a red carpet expert on E! Entertainment, TV Guide Network, and SoapNet.
"I have been invited to speak at Suffolk University and talk about my experience as a designer, entrepreneur, design company business owner–and of course ALL THINGS Project Runway, including my "Inside Dish" as a judge on the show–as well as a contestant, naturally!" Verreos previously posted on his blog. "My lecture will be part of Suffolk University's Unity Week 2010/Multi-Cultural Summit."
"It is going to be an awesome event," said Sam Andea, Program Council Special Events/Traditions Chair, preceding the event. "He's very excited to be here," said Andea before she brought Verreos onto the stage.
"Yay! I hoped more thanthree people would come!" exclaimed Verreos when he saw the full theater. He had just arrived from his Smithsonian ARTrageous! event in Washington, DC. "I'm very happy to be here. I love coming to the east coast in the winter because I can layer." Behind him was a slideshow of models and celebrities wearing his dresses and gowns.
"I was uncomfortable with myself in my skin," Verreos said, as he spoke of his years of childhood and highschool. "There weren't many role models. We had no Project Runway; I had no one to look up to." Once it was time for college, he wanted to go to fashion school but also wanted to make his father proud and study political science. Verreos spent most of his classes at UCLA sketching collections. "I didn't realize I had a special talent until I saw my sister's drawings," said Verreos.
Verreos secretly applied to art/design schools, decided it was fate once he was accepted to all of them, and went to Fashion Institute of Technology. With that, he told his father, "I want to go to fashion design school." His father cried, but because he was proud. He wanted to be an artist himself, but could not. "Learning is never a waste," Verreos said, referring to his political science education. "I can discuss things other than fashion; it's nice to talk about something else."
His career began as he worked 10-12 years in the industry sketching ideas and then making patterns. Verreos said he would make gowns after his nine-to-five job just to find his creativity. The designer also teaches patterns and pattern-making. "I love being a designer in the industry, giving back to the students," he said.
Verreos has never been a fan of reality TV, and when Project Runway first aired, he was not sure how it would be. "To my surprise, they did do it right." Once the second season began casting, "everyone was telling me to go to the casting call. I never thought I'd be on the show!" He was selected, having only two days before leaving for the show. At the time, he was in the eighth week of teaching a 10-week quarter and worried about the students and finding substitutes. He could not tell them why he was leaving.
"I enjoyed doing the show, it was amazing," said Verreos. "Heidi [Klum] is a German Barbie Doll, and they have been very supportive of my career."
When asked for advice for breaking into the fashion industry, he said to try and go to a school with a fashion program. Verreos also advised students to "get out there" and obtain formal knowledge, work, and inspiration. "Just do it, always work it," he said.
The lecture was followed by a "meet and greet" in the Donahue cafe where Verreos took pictures and signed autographs.
"He's just fun to be around. He has a very good presence, and it was very enjoyable to hear him speak," said Suffolk Freshman Selena Rox. Verreos talked about Runway gossip, impersonated others from the show (Heidi Klum and Tim Gunn, for example), and told stories. "He seems very genuine and real," said Rox. "He even covered the ins and outs of the industry, as well as the work it takes to become a designer."
Verreos concluded his lecture by answering questions from students. He was asked about his inspirations, which are endless. "I want to empower women," he said, and seeks inspiration from Greek women, his travels, museums, colors of gardens, and music. "I'm always looking. Never have your eyes shut."