Annual show is so good, its sinful
Article by: Angela Bray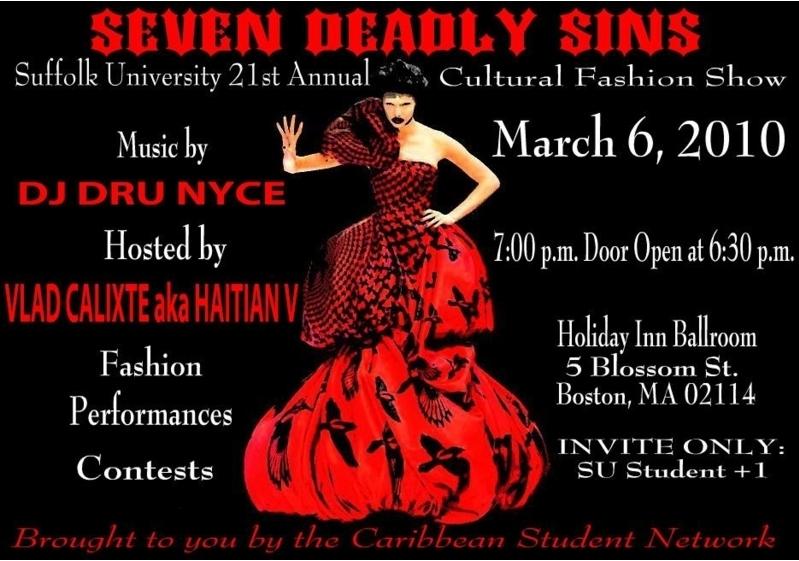 In the wake of the devastating earthquake that hit Haiti in Jan., the Caribbean Student Network's (CSN's) 21st annual Cultural Fashion Show is dedicated to the victims of the tragedy.
Tickets are free, but the CSN is asking attendees to make a donation of their choice that will be equally divided through S.O.U.L.S. for five causes: Partners in Health, St. Boniface Haiti Foundation, Janbe: Bridges to Haiti, the Haitian Soccer Federation, and Food for the Poor.
Differing from past shows at the C. Walsh Theater, this year's will take place in the Holiday Inn Ballroom on Saturday at 7 p.m. and is intended to be more upscale and formal.
The theme is SEVEN, inspired by the Seven Deadly Sins. "We wanted to have six or seven different scenes," said Joanne Edouard, CSN Secretary and director of designs.
"Each scene is a sin; one will be a combination of two sins," said Gaelle Dorlus, CSN Treasurer and director of models.
"We will be displaying Caribbean culture through music and fashion," said Tanisha Cadet, CSN Vice President and director of the overall show.
Suffolk students, as well as students from other colleges, have auditioned and will be modeling in the show, which will feature about 45 models, both male and female. The models will be wearing clothing from Illwear Swimwear, Andy Jacques, Green Haus, I LIVE KOUTURE, and Kosh3r Tease. There will also be carnival designs by Wendy Matthews. The models will be doing their own hair and CSN is paying for the services of Makeup by Jacquelyn, who has done work for Saks and MAC.
Last year's show was a successful full house, and the same is expected this time around. "There is a lot of interaction with the crowd," said Cadet. "It is an overall fun show. There is also a walking contest among the planned activities."
The event will be hosted by Vlad Calixte aka. Haitian V, with music by DJ Dru Nyce. Real Entity Entertainment will be on top of photography. Performances will be made by FAMOUS NOBODIES, Front Page, Dutch ReBelle, and the Suffolk University Step Team.
A traditional carnival scene is to conclude the show with real carnival costumes. Garments include large headdresses, sequins, bright and sparkly details, and skirts that sway with movement.
"This show is different from those in the past," said Dorlus. "The nice ballroom location is new, making it more extravagant and more formal. Just about everything will be exciting."
"I'm excited for everything," said Cadet. "We have so much we're doing. I think it's a surprise. [The audience] won't expect it."
Leave a Comment