Baseball bouncing back in recent conference games
After an arduous first month of the season, the Rams' local nine started April off on the right foot, winning two of their first three games. The team swept a doubleheader in Northborough against GNACrivals Anna Maria, and dropped a game to Endicott.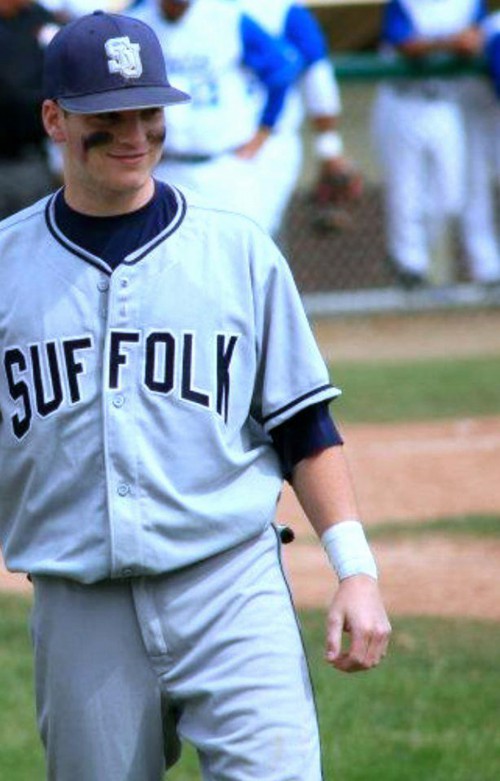 In the first game of the doubleheader, a matinée, Josh Desai tossed a two-hit shutout en route to an emphatic win for the struggling Rams. Sophomore Luke Ronchi's third inning single put the Rams up 2-0 early, and was followed by two RBI in the fourth inning courtesy of Sean Cameron and BJ Neil. In the second game, Frank Tierney and Paul Pollano combined for another shutout, allowing just one hit; a first inning single to Anna Maria's Nate Fredrick. Tierney pitched the first six frames — striking out as many and walking two — before Pollano put the nail in the coffin, adding one strikeout of his own. On the day, the Rams outscored Anna Maria 14-0, and out hit them 15-3.
Despite the two dominant wins, the Rams overall record still stands at an underwhelming 6-10, with a 2-0 conference record. It's been a struggle for the team to compete with non-conference teams, as their 4-10 record against such squads seems like a far cry from last year's conference championship winning team. In 2014, the Rams were able to amass a 14-12 record against teams from dissimilar conferences, despite their rough 0-5 start to the season. If there's anything to take from that team, it's their ability to right the ship. That being said, this year's team can still right the ship.
In fact, one player believes that this team is just as dangerous as last year's. "I think we are a lot deeper," said Adam Johnson, a senior infielder for the Rams. "Our pitching staff can all go out and perform. I would say our inconsistency so far is a result of our hitting being sluggish up to this point. We have guys that still haven't shown what [they] are capable of doing at the plate."
Lucky for Johnson and co., the Rams will have their hands full of games this week, full of opportunities to just how deadly they can be at the plate, with eight games this week. The team will start the week at home against Endicott on Monday, and then hit the road Tuesday for matchup against Bridgewater St. On Wednesday, they'll play a doubleheader against a conference foe in Endicott, followed by a day off on Thursday and another inter-conference doubleheader at Rivier. The Rams will finish out the week against at Johnson and Wales, in their third and final conference doubleheader of the week.
Johnson believes the team needs to "stay humble and focused. We got to keep focused on the little things, and take it pitch by pitch."
The Rams began their long stretch on Monday against Endicott, and will play Bridgewater State on Tuesday at 3:30 p.m.
Leave a Comment