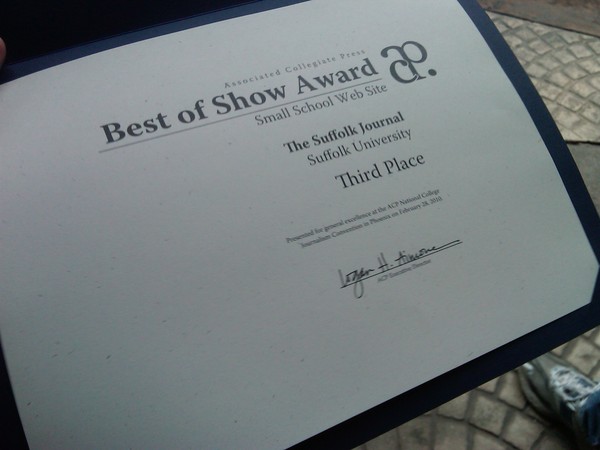 The Suffolk Journal's office walls are peppered with awards. In the 1970s, apparently, this paper was really, really good. However, we haven't won a big award since 1999 and we haven't won an Associated Collegiate Press annual National College Journalism Convention award since 1979.
Well, we finally brought one home. Last Sunday, at the ACP's annual convention, the Suffolk Journal won Third Place Best in Show for our website content and design out of hundreds of schools from all across the country that were entered in the contest.
This is a proud day for the school, not just for us at the Journal. Suffolk University is not generally known as a top-notch, high-performing institution and every group and club on campus that wins awards is doing a service to Suffolk, improving our image and showing the world that just because we're a commuter school with a small campus we aren't meant for big things.
Along with Seriously Bent, Mock Trial and the other on-campus organizations that have won awards this year, the Journal is now recognized as an outstanding achiever in our field. And we couldn't be happier.
When I started at the Journal four years ago, it was a meager excuse for a student newspaper. It was between six and eight pages, depending on the week, and it had only a couple decent articles per issue. However, from my sophomore year on, the staff of this paper has completely turned it around. With a redesign of the paper and the website, better attention to detail and on-campus news, and insisting that we maintain a 16 page weekly issue, the Journal staff finally has a product it can be proud of.
We take what we're given in life. But sometimes, all you can do with what you're given is make it better – and that's what we've done with this paper.
Every single editor and writer on this staff is wholly devoted to making this the best possible paper Suffolk can have, something the students and faculty can go to for information and news about what's going on on-campus and in the Boston area and I could not be prouder of what we've accomplished.
So thanks for reading and thanks for clicking.
Alex Pearlman,
Editor in Chief