Following FDA reform, student still plans to continue LGBTQ campaign
After a recent Federal Drug Administration decision to lift its lifetime ban on men who have had sex with men from donating blood, Suffolk junior Wyatt Costello still plans to meet with SGA and discuss the next steps for his campaign.
Costello raised awareness of the policy across campus during the fall semester.
The FDA imposed the ban in 1983, during the AIDS epidemic. It did not require any screenings or testing of individuals for AIDS. For LGBTQ activists, the ban stigmatizes and disproportionately affects gay and bisexual men.
"It's a homophobic law," Costello said in a prior interview with The Suffolk Journal. "It came out through panic."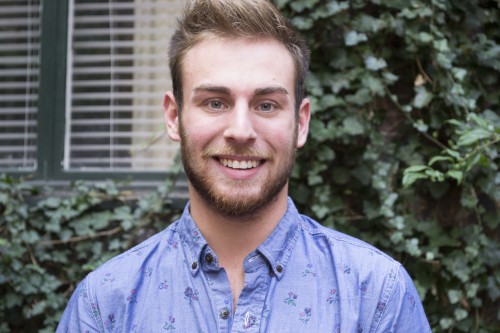 But activists' battle to reform the FDA is not over. Its policies still require a 12 month "barrier" for men who have had sex with men, requiring gay and bisexual men to not engage in sexual activities with male partners before they can donate blood.
Costello said in a recent interview that he was pleased with the progressive news, but will continue to push to remove all policies that discriminate against the LGBTQ community.
"The lifetime ban was going for over 30 years now," he said, "but I do think it's still stupid that we have restrictions. Just get rid of the ban completely. It's a great step in the right direction, but for this to be a true win for the LGBTQ community, there needs to be no restrictions."
Costello had initially proposed to suspend all blood drives on campus because they discriminated against Suffolk's LGBTQ male students, which he said was a violation of the university's diversity statement and non-discrimination policy. A petition in favor of his campaign received more than 500 signatures from students and faculty within the first couple weeks.
SGA passed a resolution in favor of Costello's campaign, although the university's administration has not responded to his requests for a meeting.
"Suffolk administration never gave a statement," Costello said. "I never heard from them. They acted like nothing was happening. But I still kept pushing and tried to raise awareness."
Suspending the blood drives on campus was replaced by hosting an event called "The Donor Games." Sponsored by diversity services with the theme of the movie "The Hunger Games," the event encouraged the Suffolk community to "volunteer as tributes" and take part in the blood drive on behalf of an LGBTQ student who could not participate.
"We worked through the office of diversity services and teamed up with the law school to host this event," Costello said. "It was a great turn out. They ran out of blood bags."
Leave a Comment