ECO-reps help clean up Suffolk
Article by: Angela Bray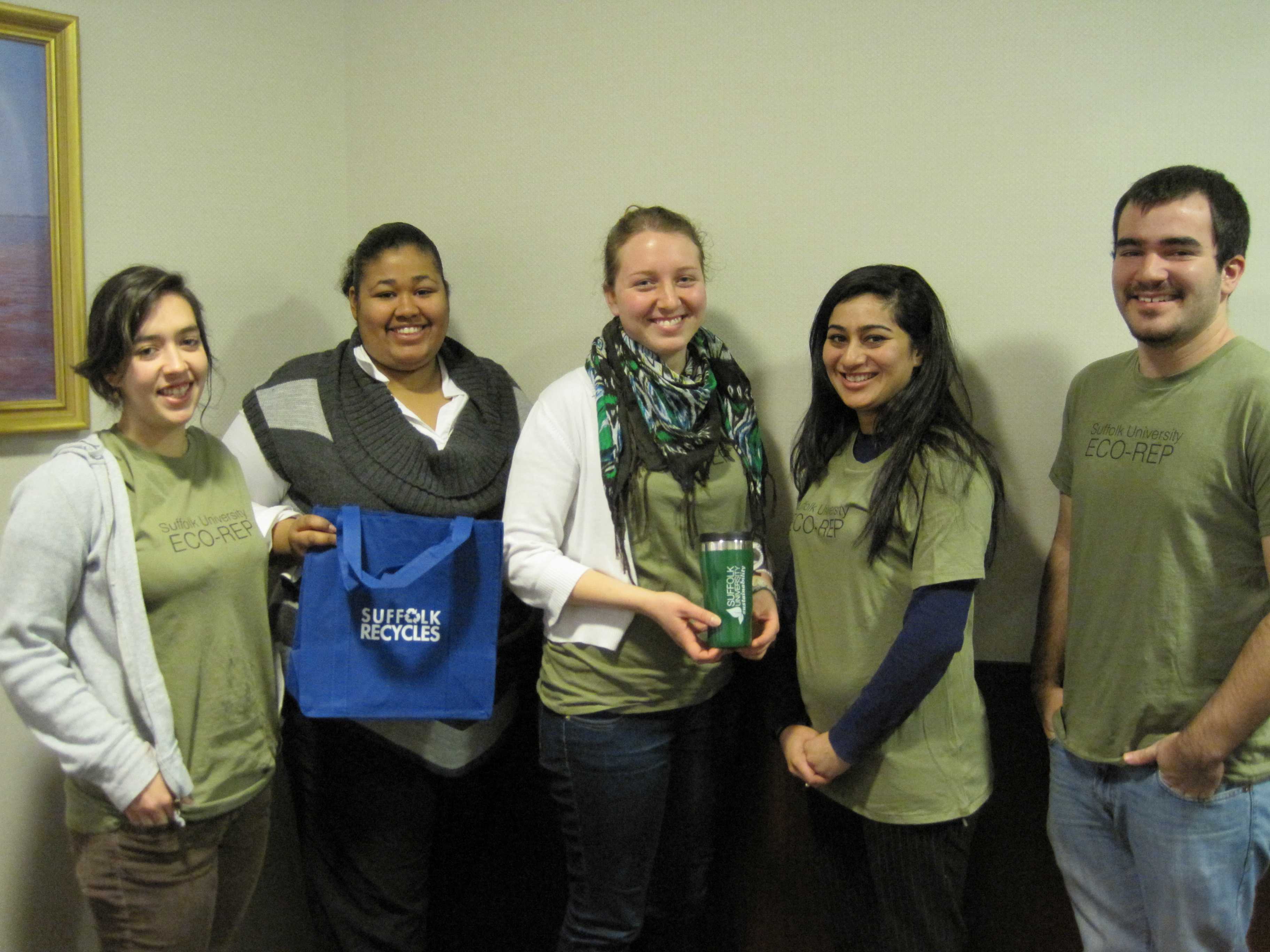 Suffolk University launched the ECO-Rep program in the Fall 2009 semester. The program promotes environmental outreach and education to students living in the residence halls.
"We push recycling and green living, as it is easy to make small changes to make the environment better than it is," said Suffolk freshman Neha Kumari, ECO-Rep for the 10 West dormitory.
"We really need students who live in the residence halls," said Erica Mattison, campus Sustainability Coordinator. "They are the ones who know the buildings best: the people, how things work, and the everyday status of things." According to Mattison, the program has almost doubled in size, as there were only three student Reps last semester, and now there are five. The Hyatt, 10 West, and Miller Hall each have one ECO-rep, while 150 Tremont has two.
"Erica came to my Freshman Seminar class and told us about the program," said Kumari. "She said that if we had work study eligibility, we could get hired. I needed a work study job, and it sounded like a good idea."
ECO-Reps are paid work study students, and dedicate their time as peer educators to contribute to resident hall programming; they raise awareness about issues such as waste reduction, recycling, indoor air quality,  and energy and water conservation. The Reps in each residence hall lead campus programs and host informational tables. "We do a lot of tabling. I usually go on the first floor [of 10 West] and set out flyers, pens, and mugs for students to take. We also raffle off T-shirts," said Kumari. "The program is really new though, and it is hard for students to stop and check out the tables because they're always busy and in a rush."
Kumari said Reps spend eight to 10 hours each week tabling and promoting. "We make sure everyone's recycling and doing their part," she said. They meet every other Tuesday to discuss their accomplishments and receive task sheets of what to promote and table each week. It is convenient for Reps to work from their dorms and fit everything around their personal schedules.
The 2010 RecycleMania tournament is currently running, which is a ten-week competition among colleges and universities all across the country; schools that recycle the most are ranked. "We are better than a lot of schools, as Suffolk ranks at number two in Boston," said Kumari.
Another event is a dorm room "open house" in the ECO-Rep's rooms, displaying green living with items such as eco-friendly light bulbs and bags; all students will be allowed to drop by and visit the rooms.
The program likes to promote events both on and off campus so that not only the Suffolk community, but the Boston community, can become informed on and involved with helping the environment. Last Monday, the Reps hosted the "Story of Stuff" short film and discussion concerning how to re-use and recycle items. This Thursday, there will be a screening of "Tapped," a documentary about the privatization of water. The film, followed by a Q&A with an expert panel, will take place in the first floor Amenities Conference Room at 73 Tremont. The event is free and open to the public.
Later in the year, the ECO-Rep Program will lead the "dump and run" program, where students gather all of the items in their rooms they don't want and donate them to be re-used and recycled.
Incentives are offered as much as possible. "If I see people recycling, I can give them coupons for the cafes in the academic building," said Kumari. There are two current competitions throughout the dorms. "For this month, the dorm with the greatest recycling percentage will win an ice cream party," said freshman Michael Ahern, one of the 150 Tremont Reps. "For the month of March, the dorm with the greatest energy conservation will win a pizza party."
Ahern suggested the best way for students to get more information is to join the webpage for Suffolk Sustainability or join the mailing list, as that is where upcoming events are posted. Mattison also sends out a few eco-updates via e-mail each month; to join the mailing list, an e-mail can be sent to [email protected]
The recycling rates have increased since the program started. "If it keeps going next year, the program will definitely pick up and get a positive response," said Kumari.
"We learned a lot since the program started, and it is continuing to grow, evolve, and impact," said Mattison. "I think it will be bigger and better this fall."
Leave a Comment