Women's basketball victory ends losing streak
By Lauren Spencer
The Suffolk women's basketball team is looking to keep the momentum rolling after putting an end to a three-game losing streak with a 60-53 road victory over Roger Williams last week
"I was proud of the kids," said Head Coach Ed Leyden after last Tuesday night's win. "I thought we fought really hard. It's very hard to win the last game before Thanksgiving break, and in another person's gym, so I think we all felt a sense of satisfaction."
The Lady Rams will travel to Fitchburg State Thursday before hosting Framingham State Saturday afternoon. The two games will be Suffolk's final two before heading into the three-week holiday break.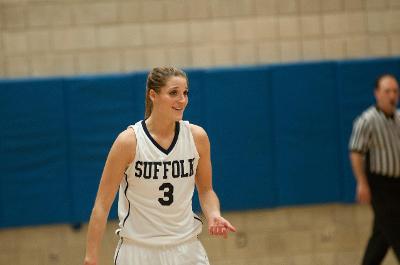 Leyden said he doesn't expect the next two matchups to be easy ones, but knows the team is ready to put in the work necessary to come out on top.
"Anytime you play a state school it's a very hard game," he said. "State schools have a wide variety of majors and the schools are relatively inexpensive so for a school like Suffolk University, they are a huge challenge. We know what we need to work on and we're willing to work on it so that's all you can ask."
The Lady Rams have faced a challenging non-conference schedule in their opening five games, and although the team's offense is averaging 67 points per game with seniors Shelby Santini and Iliana Quadri and sophomore Kelsey Schiebel leading the team with 53, 51 and 46 season points so far, respectively, Leyden notes the team's defense as a major aspect to improve upon.
"What we've been struggling with is everybody being on the same page," he said. "If there's been one consistent area that we have to really work at it's been that we have to do a much better job on the defensive boards."
Suffolk has averaged 28 defensive rebounds per game through their first five contests and has been out-rebounded overall by four of the five opponents.
"We've been absolutely pounded by second shots and I think that's something that we've worked at and it's been something that we really have to get better at," Leyden added. "That's really kind of where we're at, is to get a lot more solid on defensive boards."
Leyden said the sign of the good team is that they get back on defense, they have five people rebounding the ball, and they don't have problems against pressure. He cited those three points as keys to the Rams' next two games against Fitchburg and Framingham this week, as well as to having success throughout the rest of the season.
"We haven't gotten back on defense so that's an area that we want to get better in," he said. "We haven't been able to [rebound as much as we should be], and [playing well] against pressure is something we have to work on as well."
But having identified their room for improvement, Leyden and the Lady Rams are optimistic.
"We know we have a capable team," he added. "We have a hard-working team so we're kind of a work in progress at this point."
Leave a Comment