Vague emails won't pique students' interest
By Colleen Day
As students, we are constantly being asked to model.
Whether it is in the classroom to put our intelligence on display, or on the athletic field to execute plays from practice, we are modeling. So, when Suffolk University's Office of Marketing and Communications asks us to participate in a photo shoot, the question is: where do we stand?
The university's website is collaged with photos of student life and affairs that undoubtedly enables prospective students to see what on-campus life is all about. Producing more than 500 printed and digital projects each year, the OMC manages Suffolk's brand and its accompanying standards, according to their website.
Their outreach ranges from posters, brochures and invitations to Web content, social media strategy to video and digital communications. Their philosophy is, "we endeavor to implement appropriate, innovative, measurable, and cost-effective marketing and communication solutions," according to their website. So, in efforts to follow those principles, it only makes sense that their fellow Rams be their muse.
Held on Nov. 12 and Nov. 13, the OMC allotted over 16 hours of call times and a Dunkin' Donuts gift card reward to each student to encourage participation. Their incentives and availability were enticing, however their email with a picture of a flashing camera sent out on Nov. 10, supplied a disappointingly little amount of information.
The irony of the OMC's e-mail stating, "The Office of Marketing & Communications would like you to model in an upcoming photo shoot," is that it failed to communicate what the photo shoot was all about.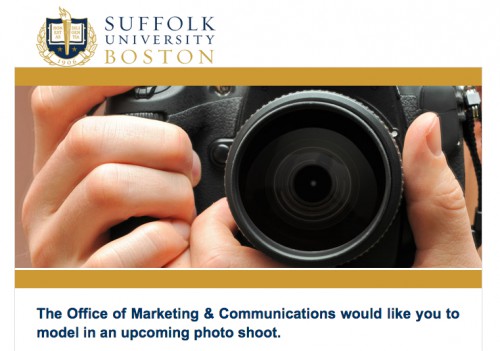 After inquiring about the shoot, the OMC was able to provide me with ample additional information.
"We are collaborating with a marketing communications firm named Stamats to create a new accepted students admissions printed booklet," said Scott Burns, the creative director of the OMC.
The booklet may be new but Burns noted, "We have had a handful of 'student life' shoots so far this year for various purposes, all to keep our library of images fresh and current. This is the first time this year we've used an outside photographer." Jason Jones Photography, who works with Stamats regularly, was hired to capture shots of the more than 60 students who signed up to participate in the shoot.
Burns said, "Photos captured student life at a number of locations in and around campus, including Sargent Hall, NESAD, outside MGH, Fenway Park, Boston Common, Café 73, 73 Tremont, the State House interior and exterior, the Rose Kennedy Greenway, Miller Hall, and Modern Theatre."
Unfortunately, all of this information was given after the fact. As ambassadors of this campus, we should have been better informed about an opportunity to show off our school pride and appreciation. Suffolk has a booming population and it is evident that through the small sign-up list for the shoot that the information was not accessible. Students were misinformed, and as a result, robbed of the opportunity to model all their hard work and dedication that I believe they deserved.
Leave a Comment