Post-election commentary: Baker will set Massachusetts' progress backwards (Part 2)
No need to fear, Republican Governor-elect Charlie Baker is here, according to the majority of Massachusetts voters who headed to the polls on last Tuesday.
Baker's election comes as a mild surprise against a very weak, and now politically dead,-Democratic opponent, Attorney General Martha Coakley. Although Massachusetts Republicans claimed the corner office, the Democrats have a supermajority in both the Massachusetts House and Senate, making it easy for them to override any Baker veto.
In the Massachusetts legislature, Republicans picked up five more seats in the House of Representatives, for a total of 34 out of 160. In the Senate, the GOP picked up two seats for a total of six out of 40. Democrats also won all statewide races besides Governor and Lieutenant Governor.
After seeing the polls and watching Coakley sink into the political abyss, Democrats had one bright spot in their campaigning. Former deputy Attorney General Maura Healey won her race for Attorney General, becoming the first openly gay person to hold that office. Healey has been rumored to be the Democrats' next best bet at Governor, according to MassLive.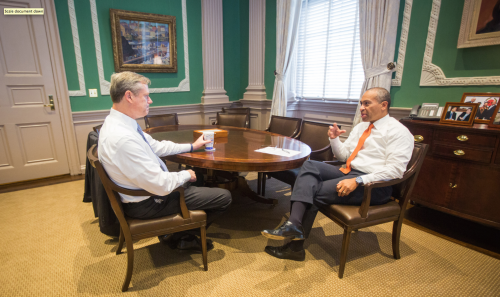 Baker's run as a middle-of-the-road guy on social issues, while remaining fiscally conservative, worked with the independent voters Tuesday. Although Baker leans to the left on social issues, his Lieutenant Governor Karyn Polito is not as tolerant.
In 2003 Polito signed the collection drive for a ballot question that would ban same sex marriage, according to MAlegislature.org. From 2004 to 2007 Polito voted for a constitutional amendment to make marriage exclusively for heterosexual couples according to MAlegislature.org
In 2009, she voted against a transgender bill of rights which would protect transgender people from discrimination and hate crimes. She also co-sponsored an anti-LGBT "parents' rights" bill that she later removed herself from, according to masslive.com and MAlegislature.gov. Although Polito has come out slightly in favor of LGBT communities, according to MassLive, her record should concern residents.
With Baker on top, expect him to use his veto power a lot. With a Democratic supermajority in the legislature proposing laws and policies, Baker will probably just veto whatever they put forth. While they can override his veto, it takes a long time to do so and obstructs government from working properly. Baker, who has opposed stronger gun laws, a higher minimum wage and the Cape wind project, will create obstruction.
Look for the new Governor to start cutting education, health care services, and other programs in order to balance a budget, which will give tax breaks to large corporations instead of working families, according to the Boston Herald. Look for Baker to attempt to balance a budget just as well as he did with his mishandling of the big dig, with no success in the statehouse.
As international activist and labor representative, Bill Fletcher has said time and again, "The Republican Party is a party against the future."
Unfortunately Massachusetts voters did not realize that forcing two parties to work together is nearly impossible today. While Massachusetts was progressing in the near top 10 of every category from education to healthcare, it is now all in jeopardy.