Last season, Suffolk University's women's basketball team were contenders in their division, ending their season with 16 wins and 10 losses.
Head Coach Ed Leyden, who has led the team for 21 years, said,  "I think we finished fourth, and that was a respectable year. I thought we did well but I also think all of us thought that we were better than that, to be honest with you … We just didn't feel satisfied with that, we thought we could do better."
The team has been training since Oct. 15, and has 12 players in total, nine returning and three new, according to Leyden.
For Caitlyn Caramello, a transfer student and criminal justice major, this will be her first year playing for the team.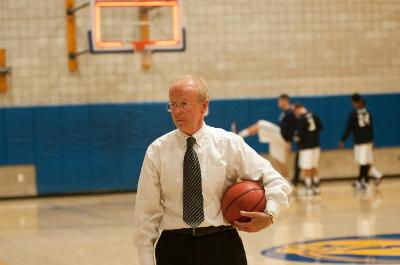 "I think this is a good season ," she said. "I'm looking forward to the actual feeling of playing in a college sport and the feeling of our team succeeding … I also can't wait to be in full season with my teammates, they're great and I love them."
Caramello is just one of two freshmen on the team this year. Leyden has confidence in the whole team.
"This group, the whole group, I would say that they really love to play, not every team loves to play, they really love to play and they want to be good … We have a lot of respect for our opponents, it's going to be hard to win a game, it's very hard. I'm very hopeful, I think we'll be okay by the end, and I think by the end of season it could be a lot of fun."
When asked what he meant by "fun," Leyden said, "I think we'll be in the battle at the end … We've made the ECAC seven out of the past eight years, we've been very successful, we've been averaging 17 wins a season for the past 15 years."
Winning isn't the only advantage of team sports. Leyden said, "What makes a team work, what makes a team successful is the same thing that makes a person successful, a company successful … I think being on a team and competing on a high level, I think people learn life skills."
When it comes to values, Leyden said, "We stress all of those things, we stress accountability, we stress hard work, we stress teamwork, we stress selflessness, to lose with dignity, to win with humility, all of those things go into athletics and go into life."
Leyden has two assistant coaches; both are Suffolk graduates and former women's basketball players Meghan Black and Jackie Vienneau. "It's very cool to be working side by side," he said.
The team's senior captains are Shelby Santini, Iliana Quadri, and Tori Brillaud. But, Leyden doesn't play favorites. He said he "doesn't like to focus on individual students because they play team basketball," and affectionately refers to the team as "the kids."
On game turnout, Leyden said, "Basketball is an acquired taste. I think if some of the student body, some of the males would come down, I think that they would see a lot of dignity, we represent the school really, really well, and I think people would enjoy it if they give it a try."
Their first game will be versus the Yeshiva University women's basketball team at Wheaton College on Saturday.