Writer-producer Justin Simien's new independent film about race and identity at a fictional Ivy League school was totally not what I expected it to be.
Based on its title, Dear White People, and its trailer, I thought the movie would mostly be about a terrible standoff between black and white students at Winchester College. But the movie, which came out last week, was more about intimate moments that show the complexities of racial identity in a supposedly post-racial America.
When invitations to a "black-themed" party are sent to the school's white students, a racist Halloween party ensues. The school's black students — as they are referred to in the movie — infiltrate and stop the party, and the police are sent to the scene. That's the climactic moment of the movie.
Aesthetically, the movie was bright, and characters were framed in an academic setting. The protagonists were outfitted well, from hair to toe, based on the personality of their characters, and the movie was visually appeasing.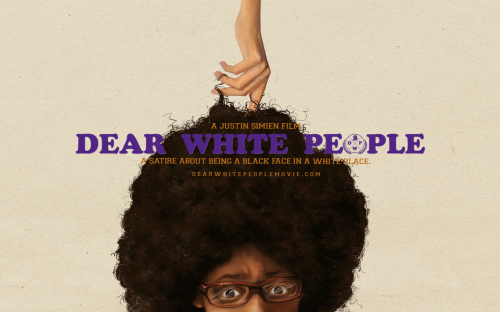 I liked how Dear White People presented the issues and didn't pretend to know the answers. It wittily pointed out differences in race and how people of different races relate to one another.
It showed that conflict still exists in what people call a post-racial America through the film's characters. They were confused and unable to draw conclusions about where they fit in, how they should look or act, or who they should date, making the film relatable.
There's Samantha White, played by Tessa Thompson, a biracial student who is the head of a predominantly black house on campus and the Black Student Union. She's also host of her own radio show called Dear White People, has her own book, and is YouTube famous.
Sam is in love with her film class' teacher's assistant, who is white. At times she is conflicted about being president of Black Student Union, and how far to go in her role as head of house.
Kyle Gallner plays Kurt, the white son of Winchester's president, who, even though he was bothered by Dear White People the show, didn't send  the invitation to the supposed "black-themed" party on campus [whatever that means] that causes a cataclysm on campus.
Troy, who is played by Brandon Bell, is the son of the dean of students, and dates Kurt's sister, also white. He also has a one night stand with Coco Conners, a college student who wears blue contacts and a wig, and says she prefers white men to black.
Then, there's Lionel Higgins, played by Everybody Hates Chris' Tyler James Williams. Not only is he socially awkward, but he plays a black, gay, college student trying to find a group to fit into. He sort of fits in with the college newspaper because of his access to both black and white students involved in this whole situation.
Every character displays duality within the movie.
After watching the movie, I overheard someone saying that they were surprised that it wasn't as "in your face" as the title suggests. I think that it was "in your face," as in your face as Spike Lee's Do the Right Thing is, for example, but it was more about intimate moments than the climactic racist party moment.
The movies message seems to be that identity is a complex issue, especially when it comes to how race influences it, and I think it does a great job at showing that. It has a nine out of 10 rating on Rotten Tomatoes and a 6.6 out of 10 rating on IMDb.
Although the movie has been criticized by some for being racist, mostly because it has a seemingly inherently racist title and Samantha White says in the movie that "black people can't be racist," the movie is for everyone. If people take the time to think about how racial identity is addressed in the movie, they will see that race is still an issue in America.