Becca Eshoo, high hopes for women's tennis
The women's tennis team is one of Suffolk University's most consistent squads, and Becca Eshoo is well aware of that.
Eshoo and the Lady Rams recorded another outstanding season finishing with a regular season conference record of 4-2.
The team lost in the semi-finals against Johnson & Wales 5-2, but with players like Eshoo, the future of women's tennis looks bright.
Eshoo credits a lot of her upbringing in tennis to her father.
"My dad played all his life, he is kind of the one who taught me how to play," said Eshoo. "He comes to all my college matches at home, he is very dedicated and supportive."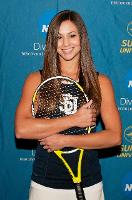 As a junior, Eshoo is going to be the highest seeded senior on the team. Her journey has yet to earn her a GNAC title, but she plans to stride for a shot at the championship in 2015.
Coming to Suffolk, she already had a solid background in tennis.
"At Farmington High School, junior and senior year, was when I was in the starting line-up, like, all the time," Eshoo said. "I was No. 4 singles my junior year in high school, No. 3 my senior year."
Her experience in high school as an upperclassman really helped her in transition to college athletics.
Suffolk was no guarantee for Eshoo, but she is more than happy that she applied.
"I didn't apply at first. it was a last minute decision. I applied in January, I think, and came here for the accepted student information. When I came here and saw everything, I was like 'wow, this is where I want to be,' and obviously tennis was a big deal to me. I really wanted to go to Suffolk because it was in the city, and tennis was a plus."
One thing that is more important to Eshoo more than her personal tennis accomplishments are the relationships she has made with her teammates.
She had nothing but compliments for No. 1 singles Aidiana Sagyndykova, who won 13 singles matches this season.
"Aidiana is amazing. We found out that she was named MVP of the conference, which was amazing. She is just that good," said Eshoo. "She's very positive, and we're glad to have her on the team."
The Lady Rams will come back strong, but minus one graduating senior, Adrianna Garrett.
"Very bittersweet for me, well, more bitter than sweet," said Eshoo. "She's [Garrett] like my best friend, outside and on the team, when I came in my freshman year, she took me under her wing. We have been inseparable ever since. I'm going to miss her next year."
Knowing her friendship with Garrett will stay intact; she is expecting big things for next season.
"Hopefully next year for my senior year we can end up on top."
Leave a Comment