Falchuk talks background and initiatives with journalism students
Evan Falchuk walks in right on time, and he wastes no time letting students know in Boston Globe Columnist and Professor at Suffolk Joan Vennochi's undergraduate journalism class know he is a different candidate running for governor. 
"Politics is full of people explaining to people how awesome they are," said Falchuk. "Even the positive ads tend to be, 'I'm awesome. How could you question my awesomeness?'"
Falchuk, a tall, spiky-haired 44-year-old former executive at a Massachusetts Health insurance company called Best Doctors, is running against Democrat Martha Coakley, Republican Charlie Baker, and Independent candidates, Scott Lively and Jeff McCormick.
During his time speaking to the class, Falchuk discussed health care, his ideals, and issues he has encountered while running for governor.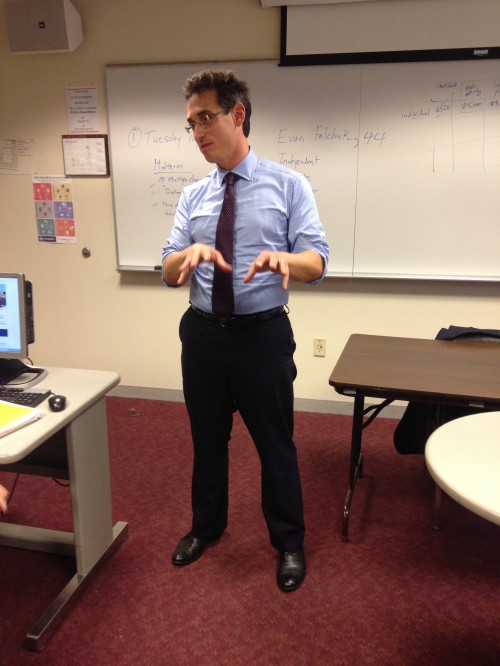 Falchuk noted that marketing, public relations, politics, and sales all revolve around this purported "awesomeness," and that receivers of this message should ask, "What's in it for me? Why should I care?"
This mindset, he said, is why he decided to create a new party, the United Independent Party, and run for governor.
"Yes, I'm an Independent candidate running for governor, but I funded a new party based on three ideas." Using his hands, he listed the ideas. "Everyone is equal, everyone's civil rights have to protected, and everyone has to spend government taxpayer money wisely."
One issue that Falchuk mentioned was the cost of living in Massachusetts.
"It's among the highest in the country," he said. "It means that a lot of young people who graduate from our great schools here can't afford to stay. A lot of older people who want to retire here can't afford to do it."
A lot of health care is expensive because hospitals merge into big systems and they form a monopoly. Partners HealthCare is one example. Over the past six or seven years, health care costs have gone up more than 100 percent, he said. Partners HealthCare is a nonprofit that owns hospitals across Massachusetts.
He criticized Coakley and Baker for participating in the monopolization and monetization of healthcare providers.
"They're both doing the bidding of enabling these very large institutions to grow, Partners, and there's a lot of money in helping these institutions grow," Falchuk said.
He said politicians have told him not to talk about Partners since they're influential. To that, Falchuk said, "Then, what's the point of running for governor?"
On the high cost of health care, Falchuk said, "It's similar for students. [Most] have to pay for coverage through the school and it may not be all that great."
Falchuk has contributed about $1.5 million out of pocket into funding his campaign. Democrats and Republicans are allowed $15,000 donated per person per year, and independent party candidates can only get $1,500 per person per year, he says. "Massachusetts has two sets of rules for those that belong to a political party, and those who do not."
On the Nov. 4 ballot, there will be a question on whether or not casinos should be repealed. Falchuk said he's against repealing the casino law since Massachusetts citizens have voted on it already.
On his social progressiveness, Falchuk spoke about women's rights, racial profiling, and marriage equality.
"These things we have in this country are here because people fought for them," he said. "When we talk about equality, we've got to make sure that something is happening for women," Falchuk said.
He also said that we need blacks and latinos in positions of power.
"The persistence of racial profiling is incredibly disturbing," Falchuk said. "We've seen what has happened in Ferguson."
He also said Massachusetts needs policies that reflect equality.
"I'm white and I'm male and that means I come to the table with all kinds of preconceived notions that I don't even know I have," he said.
Falchuk, was born in Washington, D.C. He grew up in Newton, Mass. His wife, Felicia, is pursuing a master's degree in social work at Boston College. He has three children who attend Newton public schools.
Falchuk's brother, Brad, is the producer of Glee. His mother, Nancy, is a past president of Haddasah, an American Jewish volunteer organization.
On career choices, Falchuk said, "I think the best advice that no one ever gave me, is that you should do something with your life that you think is cool and that you think is meaningful, and you should pursue it with all that you have."
Leave a Comment