Adrianna Garrett, women's tennis still looking strong
Growing up in Plymouth, Suffolk University tennis player Adrianna Garrett was raised in an athletic environment.
Life got intense and games got highly competitive which she believes forms a certain kind of athlete. Her father and sister are both involved in the sport of soccer; both are coaches at different levels.
She played it all her life until she found her niche in tennis when she needed a spring sport in high school.
"When I came to Suffolk I had reached out to the coach and I showed up for preseason and it was the best decision I could have made freshman year," said Garrett, a senior majoring in accounting and entrepreneurship.
While most people coming into college may have a rough time adjusting, Garrett had a different type of experience. Although it was at first intimidating being a part of the tennis team with mostly upperclassmen, she found a family in it. Her teammates made her feel a part of their group as soon as she got settled in.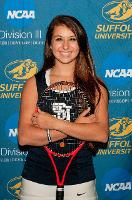 Her transition into the team was made easier by her doubles partner and team captain, Rebecca Copeland. Garrett wishes to become like Copeland in a sense that she wants to be there for freshmen players and help them get adjusted and acclimated to the team and being a student athlete.
"She [Copeland] helped me create a good collegiate mindset for sports," said Garrett. "She definitely made it easier for me to come in and I kind of tried over the years to then do that with the younger classmen just because I know how helpful it was for me to have that coming in."
Garrett has confidence in strides and could be attributed to her years training in the sport and constantly scouts match ups to prepare for every match. She watches tapes with Rebecca Eshoo and tries to figure out weaknesses of different opponents. She also goes into every match with a mindset that every opponent can be a threat, even those considered to be not at her level.
Garrett also constantly trains her body to stay at a competitive level. She takes advantage of the offseason and tries to play tennis every day. She believes it's all about repetition and despite having a full-time job in the summer, she found ways to get in a tennis court to hit balls and get better everyday.
"Tennis is such a mental sport, that's one of the biggest things you have to focus on: is creating a mental strength," said Garrett. "To not let whatever school, work, family bother you while you're on the court."
Tennis is a 40 hour a week commitment with practice and matches everyday except Sunday. With projects and midterms, sometimes it can be taxing for her. She thinks having a busy schedule allows her to take advantage of the time that she does have. And although having tennis can be overwhelming for her, she knows she just has to prioritize and make sure all her work is done.
Despite having a double major, she is not fazed by it and states that it is not that hard to do. She just picked a focus and took advantage of the spring semesters and schedules her classes that way,  since tennis is in the fall.
"It's kind of like a double-edged sword because it's the greatest thing that not just myself but all the girls have and for that two hours it doesn't matter what happened today because you can just take out all that anger and angst you have," said Garrett. "You have to take responsibility for your schedule and figure out when you can do certain things."
Some day, Garrett hopes to get in the business world but eventually open her own tennis club and hopes that her future kids will play sports.
Leave a Comment