Becca Eshoo, Lady Rams prepare for back-to-back conference games
In a major conference week for Suffolk University women's tennis team, the Lady Rams are set to face two conference opponents.
The Lady Rams (0-4) lost to Simmons College 7-2 in their home opener at Buckingham, Browne, and Nicholas in Cambridge, Mass. The only two home wins were in singles from No. 1 Aidiana Sagyndykova and No. 3 Becca Eshoo.
Eshoo is one of four upperclassmen on the team this season with what appears to be a very young squad with less collegiate experience.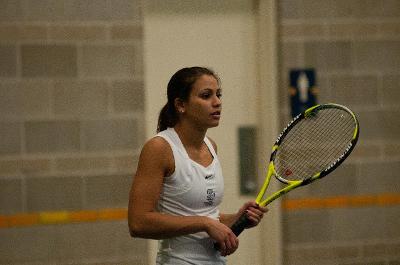 "At first I wasn't sure about playing No. 3 singles, last year I was moving around a lot, but I'm a lock in at three," said Eshoo, a junior, from Farmington, Conn. "Moving up to No. 3, I was kind of nervous, but now I feel more comfortable playing there."
Eshoo addressed how this was a young team, with many of the returning players moving around to different singles and doubles slots.
Coach Steve Counihan has had his hands full with rotating the doubles pairings, which is not unusual for the Lady Rams, but there have been seven different pairings in just four games with a disappointing 2-10 record.
With just one conference game played, it is not time for the Lady Rams to hit the panic button yet.
"He [Counihan] has helped me overall in my game," said Eshoo. "I hit a lot better than I did from the start of the year. My doubles game has improved, I didn't play doubles at all in high school, so I'm a lot better now than I was two years ago."
Eshoo continues the tradition of being a very calm tennis player when the team deals with early season struggles, because most players are aware that the team always gets a slow start when playing challenging non-conference teams.
With the first GNAC loss in their back pocket, it is safe to say these upcoming games against the Wentworth Leopards and St. Joseph Blue Jays (Conn.) will be the climax of the regular season.
The Leopards are an unpredictable matchup for the Lady Rams.
"We've played them [Leopards] both previous years I've been here," said Eshoo. "They just got put into our division, my freshman year we beat them, but last year we lost."
The Leopards (2-7) are 1-4 in conference games so far this season. A concern going against the Leopards is that the team is 9-18 in doubles matches, which overshadows the doubles play of the Lady Rams.
They face the Leopards Thursday, followed by the Blue Jays Saturday. Both games will be played at home.
Leave a Comment