From businessman to university president
Stepping into the large office on the 13th floor of 73 Tremont, it was like the U-Haul just dropped off Suffolk University's now interim president, Norman Smith. His office looked ready for the school year, but it emulated the feeling of a student moving into his or her dorm for the first time – a new surrounding, unsure of the university welcoming him or her. But, President Smith is no underclassman.
Smith was named Suffolk's interim president after James McCarthy, the university's ninth president in history, abruptly stepped down on the eve of the 2014 school year.
It was early morning; the sun started to creep into the office of the new acting president. The view of the office overlooked the heart of Boston, a view that would make anyone feel as if they were mayor of an entire city.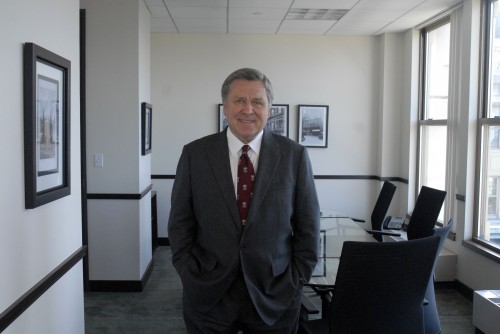 Smith graduated with his MBA and an undergraduate degree from Drexel University, was also a part of the John F. Kennedy School of Government at Harvard University. He was on the management team in the late 1970s, which would lead to bigger things for Smith, such as becoming the assistant dean of Harvard.
"In the mid-80s, I really started to get itchy about being a college president," said Smith, thinking back on his early beginnings in higher education, a career he had not predicted for himself.
"My career was pretty much locked into higher education. I think my background, academically in business, I wanted to be an administrator, which led to me wanting to run a college. I started to thinking 'I could be a college president. I could do that!'"
Smith got his biggest opportunity at Wagner College on Staten Island, which at the time was in fear of shutting down. He helped make one of the biggest turnarounds, as one of the youngest college presidents at the time, just 41 years old, helping Wagner from the bottom to the being in the top tier of schools in the country. He managed this all in just under a decade.
Smith's credentials would only skyrocket from there, holding office at Richmond University: The American University in London, Dowling College, and becoming the founder of Chancellorship of Alamein University in Egypt.
"It has been exactly 30 years, from when I left Harvard, that I'm coming back to Boston," said Smith, who lived in Boston, but grew up in Toronto, Canada. "I met my wife here, we spent our first five or six years of marriage here, so Boston has always had a place in my heart."
Smith, only three days into his presidency at Suffolk, has the experience as a university president to make some impact on such a short and rushed notice.
Still settling in, Smith still intends on getting to know the student body and getting involved on-campus.
"When you're a college president, it is kind of being like the mayor of a small town," said Smith. "What you enjoy is the college. Depending on the school, like at Wagner, we had a national championship football team, so I went to every game for the entire 15 years I was there. We also had a great performing arts program. I just enjoy the richness of a community."
With a daughter who just graduated college, on top of his successful past, it is hard to imagine that at his age Smith would be in this for the money. Even his legacy as a so-called "turnaround specialist" is so decorated that his presidency at Suffolk will offer nothing more for him to prove.
Smith says he stepped up to the challenge of being the interim president of Suffolk because he truly wants to help the students. He had some very strong advice for students of Suffolk.
"The most important thing in college is that you have a golden opportunity for four years to get discovered. That is not something that will happen for you unless you make it happen for yourself. I do believe it is not just what you know, but who you know that knows it. If you are discovered early enough it will lead to doors that will open after you graduate."
Leave a Comment