Ram profile: Suffolk baseball's Matthew Brenner
At the ECAC championship on May 11, freshman and catcher Matthew Brenner was pleased the Suffolk Rams had stepped up their game after another loss to rival St. Joseph's College in Maine.
Brenner said the defeat to St. Joseph's was "definitely tough for the older guys because they had lost to them for the last four years."
But despite the crushing GNAC loss, Brenner said "everyone just came together … we went out there and played three games and won the ECAC championship."
Victory brought excitement, an emotion that only grew when awards were announced and his name was called.
Brenner was voted the most outstanding player of the series.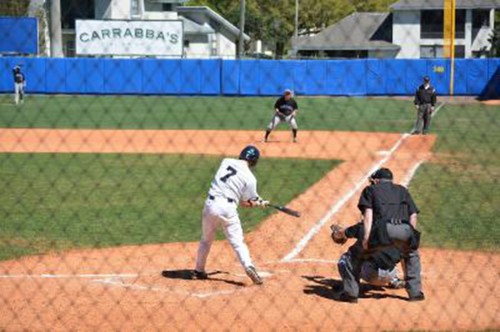 "I had no idea that they picked most outstanding player," he said. "After we won the championship they called me up and I was in shock."
During the first game of the championship series Brenner went four for five with two doubles, he said. His next two games were not as impressive, but still brought a proficient performance.
The global business and marketing major went into his first season of college ball not expecting to spend so much time on the diamond.
"Coming in as a freshman, I wasn't expecting to play that much," said Brenner. "I got my first at bat in Florida and I got a hit."
After a meager spring training performance in Florida, Brenner said he was unsure of how the team's performance would continue.
But, to Brenner and the rest of the Ram's satisfaction, success was only a few at bats away.
"We stepped it up and started winning a lot of games  … which was good because I didn't really know what to expect from the team."
For the off-season, Brenner said he plans to spend a majority of his time in the gym.
"I'm going to be trying to get as strong as possible," said Brenner, who specifically plans to spend time in the batting cages and training to run faster. "At this point I need to get bigger, faster, stronger," he said.
Brenner said he will also be playing in a summer league to keep his game up to par.
Come fall, the team will scrimmage each other and then spend the winter in the gym preparing for the season. But this team, who has a very close personal relationship according to Brenner, will be missing a lineup of graduating seniors.
"It's definitely going to be an adjustment," said Brenner. "We're losing nine or 10 players … the freshman class coming in is really going to have to step up."