Former congress members visit campus, stress public service
When you put a Republican and a Democrat in a room, you would expect them to be constantly undermining each other and antagonizing their ideas. But this was not the case when Suffolk University held its Congress on Campus program this week.
Every two years, Suffolk University holds Congress to Campus by inviting two former members of the House of Representatives, one Democrat and one Republican, to talk to students about the benefits of public service.
This year, the university invited Sam Coppersmith, a Democrat from Arizona, and Ann Marie Buerkle, a Republican from New York.
"This program wants to encourage students to consider careers in public service." said Coppersmith. "Public service can be a great opportunity if you are interested in politics. But public service is far more than just running for office, and can open up many different possibilities."
Coppersmith served in Congress from 1993 to1995 and has since been a managing partner of Coppersmith Schermer & Brockelman PLC. He has also written columns for the East Valley Tribune.
Buerkle was a member of the House from 2011to 2013 and worked at the Attorney General's office from 1997 to 2010. She is currently the commissioner of the U.S. Consumer Product Safety Commission. She was involved with Vera House, a pro bono rape crisis center, before her start in politics.
Although both differ in political views, their love for public and political service is similar. Before their respective starts in politics, they were involved in numerous public service entities and credit them to how they were able to gain their respective seats.
"Congress is an extension of [public service]," said Buerkle. "If you're not involved, you won't have any say and knowledge on what you're doing."
They both credit their stints in Congress to their involvement with public service and advised students to consider careers in this field. Coppersmith even calls his time as a member of the House of Representatives the best job he has ever had. Because of his involvement, he got opportunities with people in campaigns and running for office seemed to fall on him by chance.
Even though both guests are no longer in the House, they do have thoughts on several issues that concern college students.
One of the more concerning problems that college students face is sexual assault. Buerkle feels that colleges should do a better job to remove the stigma on talking about it and that people should be able to feel comfortable with coming forward. However, she does praise actions to counter these acts and believes that universities are constantly improving. She also praised Syracuse University for utilizing the Blue Light System, which is intended to allow students access to emergency alarms around campus so they can get assistance in times of distress.
On the topic of student loans, the representatives feel that the question being asked should be, "What is driving all of these costs?" The increase rate of college tuition is greater than that of inflation and it creates such a burden for students who will not be earning as much in the start of their careers. The debt creates such uncertainty for the private sector and weakens the job market for students.
But there is an alternative for students with loans since those in public service careers are offered loan forgiveness by the schools. Unfortunately, there are fewer public service opportunities because people are staying healthier longer and they are less inclined to retire since they are still able to work as they age.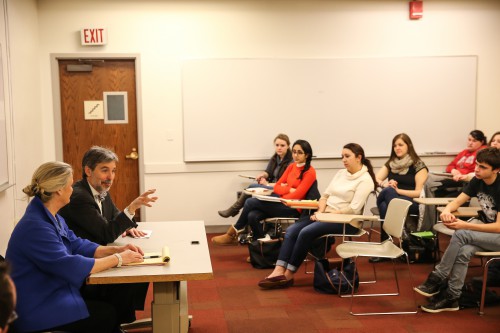 This also affects international students who would want to find career opportunities in the United States. However, Coppersmith believes that the country is ready for a slight shift from making acquiring visas difficult for non-citizens. They overshot the mark and there is an opportunity to be less restrictive, especially since the rest of the world considers an American higher education a luxury. And hopefully, the U.S. can loosen up and both students and immigrants will be met with less hassle according to Coppersmith.
For a lot of students going to school in downtown Boston, finding housing close to their schools is difficult. They are not only driven farther from campus by complaints from neighbors but also by the high prices of downtown apartments. Coppersmith thinks there are individuals who are unwilling to increase the density in cities even though people want to live in urban settings. Buerkle feels that a solution is difficult to come by because of the costs and time involved.
The entire program is a way for the former members of Congress to entice young students to public service. There are surprising amounts of smaller political campaigns in need of people who need some assistance in their respective races.
But, the two were pleasantly surprised with how the students of Suffolk have reacted to their presence on campus.
"[Coppersmith] and I believe that the amount of hospitality and engagement is remarkable and we are grateful to have this opportunity." said Buerkle.
Leave a Comment