By Heather Rutherford
One would not have known it just by watching him perform, but Seth Glier was simultaneously thinking of what he was going to say next to his audience in Suffolk University's C. Walsh Theatre after he finished singing and playing the piano. Last Thursday, Suffolk welcomed this singer/songwriter to do what he loves and does best as a part of Unity Week. Not only does he average 250 shows annually, Glier also is a spokesperson for the organization Autism Speaks, which raises awareness for the disorder.
Glier, before attending Berklee College of Music for only one year, grew up in Western Massachusetts. After dropping out of school because he wanted to play for people and not for grades, he moved back home with his family. Doing this, Glier explains, sparked inspiration for his music, including his Grammy nominated album "The Next Right Thing." In order to live at home rent free, Glier made a promise to his mother: to wake up his brother every morning, and help him shower and eat breakfast. Glier's brother is 29 years old and lives with severe autism.
While his brother is nonverbal, Glier felt as if he was forming a relationship with his brother and not his disorder.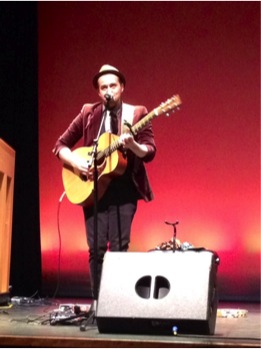 "I didn't know how to have a relationship with him," Glier says, "not because of the autism, but because he wasn't like me." Moving back home-made him realize what it meant to listen, and what saying nothing means in a relationship. "Learning how to communicate without words changed how I communicated with them." Glier said he often leaves words out of songs to give them power that words cannot.
Glier stressed at one point in his performance that there is never the same type of autism, that there is a broad spectrum. There is still a person on the inside of someone with autism, and they are hearing and understanding the same things that we are.
"It's not an input issue, but an output…there are people with mild autism that are NASA scientists and invent our calculators," he said.
He relates his brother's brain to a story about a well-known woman with autism, Temple Grandin, who is famous for designing humane slaughterhouses. She once explained how the autistic brain works like a search engine, like Google. When a word or phrase is searched for, it is an associative search. For this reason the brain can easily get over stimulated, and even a touch on the arm can be alarming. "My brother loves swimming, because it provides an equal pressure around the body and soothes him," Glier said.
The starting place for Glier's musical inspiration is hard to pinpoint, but Glier's life changed when he lived in Washington, D.C. for some time. While living there was artistically frustrating for him, he was equally inspired by a conversation he had over lunch with one of his musical heroes. She told him, "now is the time where it's your responsibility to write the songs that need to be sung, and do the next right thing as opposed to the next thing right." This led to the writing of his song "Plastic Soldiers," which will be sung on the upcoming season of American Idol.
Not only has American Idol noticed his noteworthy talent, but USA Today claims "Seth Glier's exquisite tenor echoes Bruce Springsteen and Billy Joel." Aside from his Grammy nomination, he has also received two Independent Music Awards. Along with Autism Speaks, Glier advocates for ChildFund International, an organization that is aiming to end the cycle of poverty in over 70 countries. "It's more than a charity, but justice," Glier tells his audience.
Glier has recently started to tour with Joe Nerney, who plays the piano, harmonica, and saxophone. Attending a performance of Glier's proves to the audience that listening can be a powerful thing that can lead to inspiration, relationships, and understanding when words fail to do so.