After a recent slew of maintenance malfunctions in the Miller Hall dorm, on-campus students have been left to wonder who they can blame for the supposed lack of the presence of maintenance in the residence halls.
Two weeks ago, Miller was plagued by broken elevators and washing machines, as well as no running water. Much of the blame for these problems is often placed by students on the facilities department.
"I want to believe that maintenance does as much as they can but it doesn't change the fact that our suite had to file three work orders for the same problem before we received assistance," said Gail Coogan, a resident of Miller Hall. Coogan's is not the only incident in which a work order has gone unnoticed. Modern Theatre resident Liv Favaro has also expressed her frustration with the timeliness of the maintenance staff.
"It's been since October and the bathroom sink in our suite is still clogged," Favaro said. "We've placed multiple work orders and talked to our residence director twice and have yet to have someone address this issue."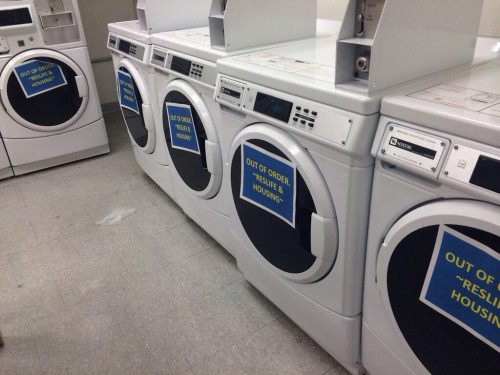 However, not all students  had negative experiences. Miller Hall resident Nicaela Samson claimed that she had a pleasant experience when she placed a work order to have her bed raised. The utility staff came by within a week of her placement of the work order, she said.
Although students had a tendency to blame the facilities department for issues in dormitories, the seemingly logical conclusion as to where their problems are coming from may be incorrect.
Jim Wallace, director of facilities management, addressed the incidents that had occurred in Miller Hall in an interview with The Suffolk Journal. According to Wallace, the water in the building had been shut off in the early hours of the morning to perform repairs on a crucial part of the hot water system; this in turn affected the activity of the washing machines. The elevators were accidentally placed on what is known as "random access" which means that the call buttons on individual floors were not able to call the elevators, making them only available to the lobby of the building. This was due to repairs being made to a temporary air conditioning system.
Wallace said that the facilities department took the necessary steps to notify ResLife that these repairs would be occurring. It is then ResLife's responsibility to communicate with residents, he said.
"I don't regularly get complaints from students," Wallace said.
Naturally, different buildings pose different issues. Modern Theatre Resident Assistant Caroline Russell, a former resident of Miller Hall, commented on her experience living in Miller Hall saying, "sometimes problems wouldn't be addressed for a while. To the point that we would just get used to our dysfunctional air conditioner and then be surprised when someone actually came to fix it."
This is only one of many examples in which work orders were not addressed in a timely fashion, among many other incidences where work orders are dealt with effectively. Another Miller Hall resident, Heather Rutherford, experienced a similar problem to Russell's this year.
"My room has been having problems with our heating system which was running for a few days, constantly blowing out hot air," Rutherford said. "Maintenance never came by to address the problem and we found the switch ourselves."
Because it employs a mechanic and utilities staff in most buildings from 7:30 a.m. to 3:30 p.m. Monday through Friday, the facilities department appears to be holding up its end of the bargain, leaving some students confused as to the source of their maintenance problems. A possible culprit could be the communication between ResLife and the utilities staff. All work orders and general complaints are placed through ResLife.
ResLife denied to comment on any maintenance issues in the residence halls. Wallace said that it is the responsibility of ResLife staff to enter work orders into mechanic's mailboxes. He does not know if ResLife tracks those orders.
It seems that when it comes to living in the residence halls, having maintenance needs met has become a hit or miss scenario, and where the blame is to be placed remains ambiguous.