Suffolk University Dance Company steps its way to the top as a team
By Heather Rutherford
Within just a few months, Suffolk University Dance Company (SUDC) went from being short of dancers to a team of more than a dozen talented female students. After first semester auditions, a total of 12 new girls stepped on the stage.
Two more girls were welcomed on the team after spring auditions at the beginning of second semester.
The team meets twice a week for three hours at Janet Neil's dance studio located across from the TD Garden. The company is uniquely managed by a group of individuals, whether it is professional choreographers, a returning director, or the company's current director, Jessica Goepfert.
In addition to professionals and directors choreographing the dance company's routines for on and off campus events, student captains are chosen to connect the company on another level. The theory of having students as captains allow for the company to become more unified and sociable with each other.
Carly Pascle senior captain and Taylor Barlow, also a senior, are able to help organize the dancers during practice, plan dance showcases, and even arrange for team outings. Being able to go out as a group outside of practice is one of the things the dance company brings to the table.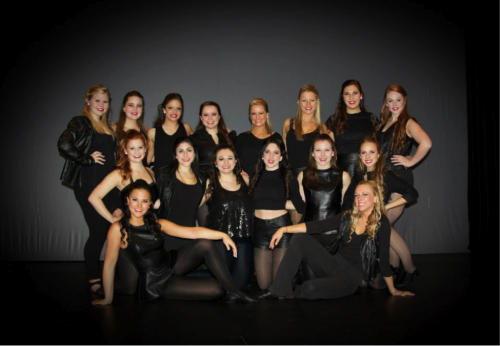 "I danced in high school, so I enjoy the dance company because it's relaxing and fun but equally challenging.  Joining the company allowed me to make a lot of friends with the same interests as me," said freshman dancer Phoebe Jackson.
By uniting the team outside of practice, incoming dancers have the opportunity to create a lasting friendship while doing something they enjoy.
"I like being on the dance company because we've all become such close friends and it's fun to be able to dance together too," dancer Emma Doherty said about her freshman year experience in the company.
Even if you have previous experience in dance, you will still have a lot to learn in the company. Routines taught by the choreographers range from styles such as jazz, contemporary, lyrical, modern, and hip hop. Performances are typically held at Suffolk's C. Walsh Theatre on Temple Street next to the Donahue building.
The company has also had opportunities to dance at basketball games, not only here at Suffolk but even at Boston Celtics games at TD Garden. Performing outside of C. Walsh allows SUDC to show its talent to the Boston community and to put a spin on halftime shows.
SUDC always brings serious talent to the dance floor, which is demonstrated by its competitive successes. Universal Dance Association hosts an array of competitions for both dance and cheerleading across the country.
There are annual competitions held in almost every state in the country, and finalists proceed to the championships in Florida. Every year in Westfield, Mass., several colleges and universities from the state are welcomed to compete against each other.  Suffolk's dance company received second place in 2010, and fourth place in 2011.
Whether you have a history of dance, a desire to learn more about the art, or even get together with friends to attend a performance, the Suffolk University Dance Company truly offers something for everyone.
It is the continuing alluring performances that keeps the audience coming back for more.
The team invites students to attend to upcoming spring showcase March 19  at C. Walsh Theatre and admission is free.