Women's basketball fight to earn three-game win streak
The Suffolk University Lady Rams are bouncing back after their first losing streak of the season to improve to 3-1 in their last 4 games.
The Lady Rams have shown that they are playing to win every game and not taking any game lightly. Last night, they defeated Middlebury in a tight game 56-53.
Jennifer Ruys had a monster night at the free throw line shooting eight-for-eight for the Lady Rams. She scored 18 points and had 7, playing physical inside to earn four trips to the free throw line.
The only concern for the Lady Rams is their shooting from the guard position. Their starting guards went 7-for-32  from the field, which is very unfortunate since they had no three-point shots made all game off of seven shots. Inconsistency in scoring from guards could be a problem down the road.
The Lady Rams were also coming off a double-overtime classic against conference rival Johnson & Wales, but they played hard enough to come out with the win 61-57. Ruys performed well against Johnson & Wales as well, recording 19 points and 10 rebounds.
Unfortunately, the Lady Rams' guards shot 7-for-32 that night as well, but the key factor to them winning was the defense played by the guards.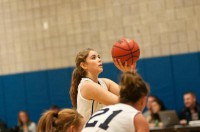 Guards Shelby Santini, Iliana Quadri, and Kelsey Schiebel all take quite a bit of shots, but their defensive play is keeping them alive in tight games.
At the end of the day, the Lady Rams are winning, which is all that matters. They can continue to improve little parts of their individual game, as well as working as a unit.
They face MCLA this Thursday, which will lead into a three-game stretch of conference match-ups to conclude the season.
The Lady rams will visit Maine to play Saint Joseph's, followed by Anna Maria the next Tuesday, and finish the season off with one more home game against Norwich on February 22.
Leave a Comment