STUDENT INTERVIEW: Laurie Riihimaki
It's that time of year again! The Theatre Department produces a Student Showcase, all student written, produced, and designed. 
Shows this year include Playing Dead by Tom Martin, directed by Laurie Riihimaki, For Every Reason, Rhythm, and Rhyme written & directed by Marina Silva, Hum's Girls written & directed by Ingrid Oslund, and Hamlet Submerged by Robert Rejek, directed by Andrew Pinto.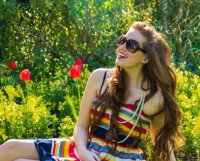 We got to sit down with one of the fabulous directors, Laurie Riihimaki, for the scoop on one the showcase! 
INSTARAM: What is your major/year?
LAURIE RIIHIMAKI: I am a theatre major and a senior at Suffolk University.
What is your role in the Spring Showcase?
RIIHIMAKI: I am directing a show that my roommate, Tom Martin wrote. It's called Playing Dead.
How did you get involved with Showcase?
RIIHIMAKI: I took [Wes Savick, theatre department]'s Directing class last fall, and right now I am taking his Directing II class. I directed a lot in high school, and I've just always been really interested in it.
How did you get to direct this show specifically?
RIIHIMAKI: At first, I was going to write my own show. The submissions were due last spring. I was writing a lot of dramas at that point. I decided I really didn't want to do a drama. A few of my peers sent me some of their scripts, and I was almost about to do one, and then about two days before submissions I was like, "I really want to do a comedy". I didn't have any comedies on my computer, so I asked Tom. He's like, my best friend. We looked at some on his computer, and this was just the first one I looked at. I just fell in love with it.
It wasn't finished. We ended up finishing it together in London, and then we edited it since then.
What are you most excited for people to see at the show, without giving anything away?
RIIHIMAKI: I'm really excited. There's a lot of energy and it's a lot of fun. I guess I want the audience to see how much fun we've had with it in rehearsal, and I want it to come through, how much fun the actors are having. The energy, and the humor of it. There's a lot of physical comedy. I just always think shows like that are a lot of fun.
What about the other shows in the showcase?
RIIHIMAKI: The other shows are beautiful. I'm very blessed to have been in such a good showcase with awesome directors. Compared to the other shows, the show I directed is very…big, which I personally love. The other shows are quieter. I think it's a good group of shows that really contrast each other, which I think the audience will really like.
I love my actors, my designers, and the theatre department. I'm very proud of everyone.



Come catch the Spring Showcase this weekend! Tickets are still available (but act quick!). They can be purchased at https://www.vendini.com/ticket-software.html?t=tix&e=71b94b6ea3412556948212a20926b4dc
Leave a Comment