Women's basketball cannot find answer against Bridgewater
All teams will have to overcome adversity, and for the Suffolk University Lady Rams it has been easier said than done.
The Lady Rams have had a tough road as the season lacks towards the end. The team cannot seem to create a wining streak, even with the return of team captain Jennifer Ruys. Their third defeat in six games was delivered by Bridgewater State University Bears.
The Bears came out and simply executed on offensive possessions more effectively than the Lady Rams. The first half was a blowout with the Bears outscoring the Lady Rams 40-25. The devastating part is that 14 of 25 of the points were scored by Ruys in her first game back. The Bears were allowed to have the game plan of just winning or keeping the second half close while not worrying about any type of comeback.
Ruys led the team in scoring, finishing with 22 points and 10 rebounds, but it was no enough to beat the Bears as the Lady Rams lost 75-61. It would be hard not to blame the loss on turnovers as well, since the Lady Rams had a total of 22 turnovers against the Bears, which is the second most they have made this season.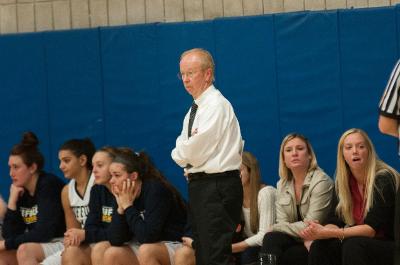 The Lady Rams are now 3-3 in their last six games following every win with a loss. Obviously Ruys' injury threw team chemistry off a bit as well as the game plan, but if one player goes down, the rest have to give even more effort. It is seen too, in guards Iliana Quadri and Shelby Santini stepping up their game, but the problem is it is not good enough to win.
Up until the game against the Bears, the problem appeared to be scoring up front with the forwards, but now it seems like there are inconsistencies all around the floor. Whether it is defense, scoring, ball handling, the Lady Rams are playing sloppy basketball.
The one positive about losing these string of games means that Coach Leyden will have the team work on situational basketball as well as the whole game plan all around. It is better to refurbish a team as they head into the postseason than being a predictable team that could get knocked out with the right opposing game plan.
There are 10 games left on the Lady Rams' schedule and they have plenty of time to find an answer to their inconsistent offense and defense. One month left to overcome adversity.
Leave a Comment