Quadri scores MVP, leads Lady Rams in Regis Tip-Off Victory
Suffolk University women's basketball roared out of the gate as it started the season  winning its tip-off tournament.
The Lady Rams (2-0) began the 2013-2014 season with the Regis Pride Tournament, which was a four-team bracket held at Regis College.
Its first opponent was MIT, who played tough, but fell behind too much too early allowing the Lady Rams to win by the final score of 73-50. Leading scorer Iliana Qudari, totaled 23 points, was accurate from the three-point line going three-for-four from beyond the arc.
"It was a great start to the season, and a great team win," said Quadri, junior guard, from Sudbury, Mass. "It feels good to finally be out on the floor."
The Lady Rams moved on to play Sage University, a college from New York. With high spirits, players like senior forward Jennifer Ruys, understood the capability of this team.
"All of the girls on our team have really stepped up this year," said Ruys, from Wallingford, Connecticut. "They have worked so hard over the summer and in preseason and it is paying off. There is so much depth on this team. It's really exciting."
The Regis College Tournament Championship match was a low scoring affair, but the Lady Rams still came out on top with a 52-48 victory. It was not the smoothest performance against Sage, but the Lady Rams still pulled out a win by hitting some key late free throws.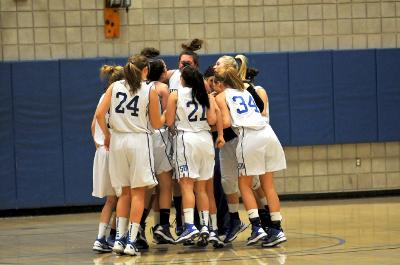 Quadri managed to only score five points, and went one-for-seven from three-point range.
"I think there's always going to be games when we just don't hit shots and this was one of those games," said Quadri. "We were taking good open shots, they just weren't falling."
Despite the missed shots, Quadri's overall performance this past weekend was enough to earn her the tournament's most valuable player.
The Lady Rams look even stronger than last year on defense, and they have some young players that will add more depth to an already stacked roster. The tournament success could only be the beginning of big things to come for this team.
"Winning the Regis Tip-off tournament is a really great accomplishment," said Ruys. "It was a really fun way to start off our season, but it's just the tip of the iceberg in terms of our goals for this year."
Ruys has the most experience on the team and has put in a huge amount of minutes on the court. Players like Ruys, Quadri, Shelby Santini, and even freshman starter Kelsey Schiebel look like they have to be well conditioned for this long road ahead of them.
"Fitness is something that our team and coaches really concentrate on," said Ruys. "Our coaches have done a great job throughout the preseason in making sure we have our legs and are conditioned to play as hard as we can for as long as we're on the floor."
Leave a Comment