A full house was drawn to the Ford Hall Forum, "Taking the Stand," co-sponsored by Suffolk's Rappaport Center.
The event was moderated by Harvey Silverglate, criminal defense, academic freedom, and First Amendment rights lawyer and co-founder of Foundations for Individual Rights in Education (F.I.R.E.) Harvey was a first year student at Harvard Law School when he met Alan Dershowitz, commonly referred to as one of the best criminal defense lawyers in the world, and simultaneously, "America's lawyer of last resort."
Thursday, Nov. 7, the forum started off with Silverglate explaining the blurbs on the back of Dershowitz's autobiography, which is also called Taking the Stand. Most books, if not all, would include positive blurbs on the back cover. Usually it's: 'Riveting read' says the New York Times, or 'Can't Put It Down' says one or another well-known figure. But, Alan Dershowitz, against his publisher's advice, chose to put his own negative critics on the back of his autobiography.
Former President Jimmy Carter is quoted as saying, "I don't read Dershowitz." No stranger to controversy, and actually an intimate friend of it, he said, "I love my enemies list. I think you judge someone not by friends but by the people on their enemies list."
Dershowitz is controversial; sitting in a room with people who do not agree with his opinions and choose to argue makes you feel like a young child spectating in an older adults' fight. To be Dershowitz is to invite argument, and be comfortable with making the room tense. Dershowitz himself is a likeable guy, and so different from the movie Reversal of Fortune, which was produced by his son and was dramatized to capitalize on his public persona as a celebrity lawyer.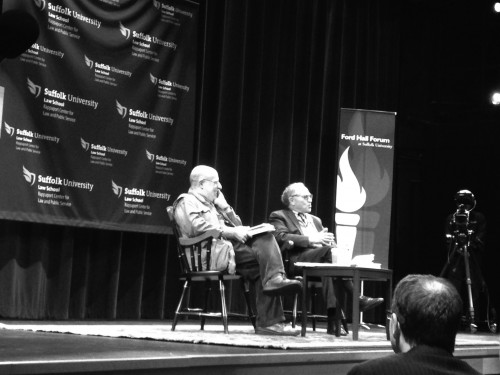 He mentioned to the audience his eight-year journey, from scoring 60s in almost all of his classes in high school (there's photographic proof in his autobiography) to becoming an associate professor at Harvard, this Jewish boy from Brooklyn was able to make a name for himself. He attributes a lot of his current success and stability to his wife, Carolyn Cohen. He describes her as motivating him to work harder.
"I have a condition called FOMS, fear or missing something. At Harvard, I didn't have to decide." This is referring to his many careers paths – author of 30 fiction and nonfiction works and over 1,000 articles. Attorney, jurist, political commentator, and professor. Dershowitz does it all.
Charismatic and talkative, he told the story of how Mike Tyson was a decent, kind man. When he was in jail and going through financial hardship, he actually borrowed money and had someone buy turkeys for people he knew. He also mentions how, although he often needed to wait an hour or more in line for the phone in jail, he would wait to speak to Dershowitz again if he heard, say, Dershowitz's daughter crying in the background. He'd say something like, "No, no I'll call you back. Your daughter is crying." Although Dershowitz assured him that he could still counsel him while his daughter was in distress.
Also noteworthy was his criticism of what he refers to as "talking heads" and "so-called legal experts" on political talk shows on TV.
"Most talking heads on TV don't know what they're talking about. They should have a sign over their heads that says 'I have been hired because I'm pretty and can make people happy with my smile. Please do not take anything seriously [that] I say about the law," he said.
He referred to talking heads as contributing when speaking about the emotionally-charged and politically polar opinions on the Trayvon Martin case.
Silvergate and Dershowitz, although colleagues and friends, have disagreed in the past about a lot of things. One of the things relevant to students and faculty at Suffolk are speech codes. Dershowitz believes that in the hierarchy of free speech, students actually have the most, and presidents have the least. He believes that although people should have the right to free speech, establishing speech codes before an incident happens will allow for decisions to be made based on a code of conduct rather than after-the-fact decisions being made based on popular opinion.
One of the most disturbing audience questions concerned Dershowitz representing Adolf Hitler if he were to ask him to be his lawyer. Dershowitz  has said in the past that if it was 1943 and he met him, he would have killed him with his bare hands, but if Hitler was 95 and on defense for something, he would give him a chance to be represented. He draws the comparison of a priest listening to Hitler confess his sins and giving him an opportunity to repent as well.  Again, Dershowitz is a controversial man, but a likeable man.
In high school, a teacher, knowing Dershowitz as a "big talker with an empty brain" advised him to become a conservative rabbi or a lawyer. This was comical to hear. Dershowitz is the stereotypical, big-talking lawyer, and it is hard to imagine a career less suitable.