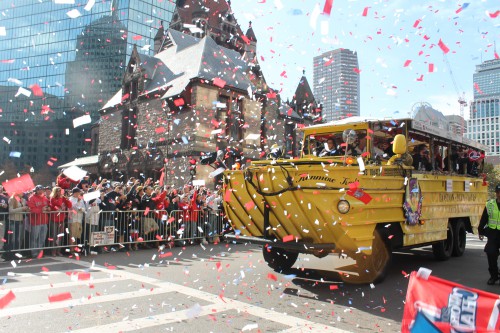 Red Sox Nation took over Boston on Nov. 2.
Lining the parade route from Fenway Park to Suffolk University's campus to the Charles River, fans turned out to see their beloved baseball team celebrate another World Series victory. Fearlessly, crowds gathered along Boylston Street by the sites of the Marathon Bombings and the finish line.
Confetti covered everything as the Dropkick Murphys jammed out, Dustin Pedroia ran from side to side of his boat like a giddy schoolboy, and fans chanted "KOJI, KOJI" for the closer pitcher Uehara.
Highlighting all the fanfare was David Ortiz, the World Series MVP. The only remaining Red Sox player from the historic 2004 team, Big Papi has come to embody Boston and our Sox in all the best ways. He jumped off his truck to run the last leg of the marathon (and we all know our DH isn't exactly a natural sprinter), and then sang and screamed into a mic for the rest of the route to fans' delight. 
There was an atmosphere in Copley Square of pure joy. You can say it's just a sports game, but we know in Boston that baseball is much more than that.
To see everyone smiling and cheering along Boylston Street — a street that can bring back ugly memories and pain for many of us who stood there to watch runners cross the finish line six months ago — was absolutely unreal.  
[nggallery id=9]
So… how many days until pitchers and catchers report for spring training!?