Samsung Galaxy Note 10.1 Tablet proves to be a success
When deciding to buy a Samsung Galaxy Note 10.1, the biggest question one needs to answer is what they want to use this tablet for. Like any other device in the smart phone and tablet market, it is capable of bringing you all the games you want to play and streaming Netflix and Hulu Plus.
If you are looking for a device to be your right-hand man on school and work-related projects though, then it is worth taking a second look at Samsung's latest tablet.
For those who are familiar with the Android operating system or own a Samsung Galaxy phone, there is little to no learning curve with this device. All the icons and buttons look and work the same.
The homepage as well as the widget and applications pages (along with everything else) work exactly like that of a Galaxy S3 or S4 phone.
If you are unfamiliar with Android or Samsung devices, it does not take much time to master them. I made the switch from the iPhone 4 to the Samsung Galaxy S3 recently and within a day and a half I had a firm handle on how my new device worked.
As for the Verizon 4G LTE network the tablet I reviewed ran on, there wasn't anywhere around Boston that I had trouble with. That partially comes from living in New England's most notable city. Galaxy Note 10.1 users around the region shouldn't run into problems even if they aren't in Boston though, as Verizon owns the title of highest ranked wireless provider in the Northeast according to J.D. Power.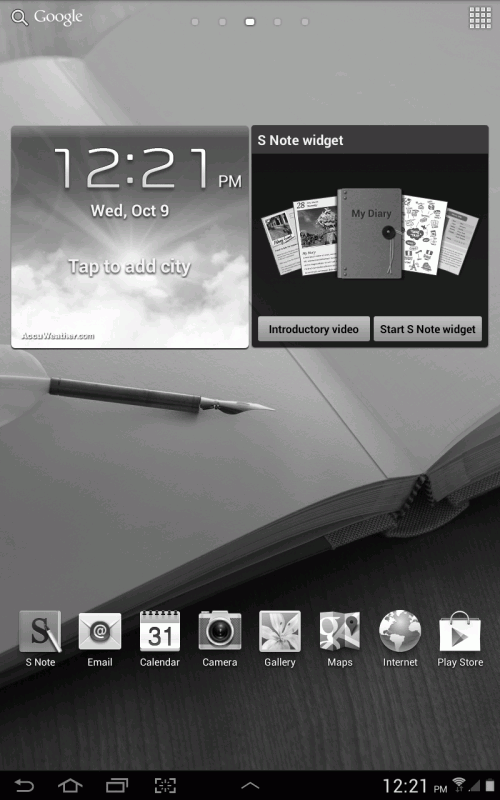 What does differentiate the Galaxy Note 10.1 from its smart phone siblings is apps like Polaris that make using Microsoft Office on it a breeze.
The Gmail, Chrome and Kindle apps are also more helpful and useful with the tablet's 10.1-inch screen than they are on a smartphone.
The thing about the Galaxy Note 10.1 is that it relies heavily on the stylus touch S pen. The pen does make things like taking notes and texting easier but it also takes a bit to master. If you are a person with messy but fast handwriting, the Galaxy Note 10.1 does a fine job of making sense of your chicken scratch.
If you are someone who takes your time writing out words though, the tablet tends to create unwanted spaces between letters due to the slower pace of writing. It seems like the best way to take advantage of the pen is by writing sentences as fast as you would type them.
The Galaxy Note 10.1 retails at about $500 so it's a bit of an investment. The iPad 2 is about $400 and the Microsoft Surface is about $450 so Samsung's is the most expensive of the big tablet names.
If you are in the market for a tablet though, you should expect to be spending a hefty chunk of cash anyways.
From an academic standpoint, the Galaxy Note 10.1 has plenty to help college students. If you are struggling in biology or chemistry class, S Educate has you covered.
The Samsung-powered app allows students to view videos created by the Khan Academy that covers topics that arise in those classes. It also plays high-quality videos and games. Basically, it does everything one would expect a tablet to do these days and it does them quite well.
Even the battery life is impressive which is surprising considering how notorious the Galaxy phones are for being addicted to their chargers. The tablet lasted almost two days between charges.
The Galaxy Note 10.1's benefits outweigh the fact you'll have to fork over five $100 bills to own it. Quite simply, you get plenty of bang for your buck whether this is a purchase for academic or purely social reasons.