SGA President has big hopes with return of roundtable discussion
"It is our job as student representatives on campus to know what the other clubs and organizations are planning and what their goals are." So said SGA President William Cerullo, who this week hosted the first of a series of roundtable discussions designed to establish relationships between different clubs and organizations within Suffolk. Presidents from over 20 Suffolk clubs joined to speak about common goals that they have and want to accomplish this year.
At the beginning of the meeting, Cerullo prompted the club leaders with a question, "What would you like to be the outcome of this meeting?"  To that, a myriad of answers arose. Most commonly, club leaders mentioned that they would like to establish close relationships with other clubs. They also commonly mentioned that they would like to raise more awareness and name recognition for their clubs. In this way, they can recruit more members and showcase each other's events.
"Suffolk, due to its geography, is perceived as lacking the community that a traditional college campus with a quad would have. Ultimately, we want to facilitate more of a sense of community, not only with the presidents of SU clubs and organizations, but with the students at Suffolk," said Cerullo.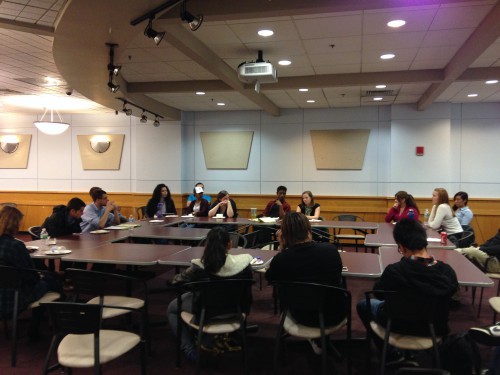 During the meeting, leaders from different clubs were already helping each other come to different conclusions on how to establish a broader membership base. Newer clubs, like SU Crew which seeks to raise school spirit surrounding athletic events at Suffolk, and Taiwanese club, which hopes to establish a sense of community, not only within the Taiwanese culture, but outside of it, created awareness about their club just by being there and listening to the conversations being held.
"It's helpful because we get to learn about other clubs that are around and think of different ways to work with them, gain co-sponsorships, and share experiences, " said Rose Delvoix, vice president of Voices of Zion. Ezihe Iwueze, president of Voices of Zion concurred. She said, "It also gives us a chance to be informed about each other's programs and events."
The roundtable discussions could prove to be an opportunity for club leaders to network and create friendships. A member of the Techies Union at Suffolk mentioned that for students interested in joining a club or organization for the first time, knowing just one of the club leaders could prove to be a secure point of contact for them. "Instead of mentioning a vague idea of who the club leader might be, club leaders can say 'I know this person or that person, I can get you their information.'"
Cerullo is hoping to have these roundtable discussions twice a semester and is open to suggestions regarding format of and content for the meeting.  "As we understand what each others missions and goals are, the conversation will begin to flow and we will be able to address and create solutions for the different issues that concern Suffolk club leaders." Overall, the goal is to create partnerships between different clubs and organizations so that club leaders and their constituents can inspire inclusion.
Leave a Comment