Learning inside and outside the classroom at Suffolk, an Alum's story
"You have to be passionate about this place so you can share it with others," Rebecca Bishop, a digital producer for Suffolk University's marketing and communication office, said of her job. A Suffolk grad herself, Bishop knows the school well and has watched it change rapidly over the last few years.
The class of 2010 graduate came to Suffolk from Glastonbury, Conn. after visiting a high school friend at the university.
"I loved that the school was central to the city with such close proximity to everything," Bishop said.
She originally wanted to break into the publishing world, so she pursued a B.A. in English.
"The staff [of the English department] was just awesome," Bishop said. But, in high school, Bishop ran a freelance web design company online and is now working in multimedia and online content.
"As a sophomore, I called around to offices at Suffolk looking for a job," Bishop said. She was hired as one of the first student employees in the marketing and communications office in 2007.
"I got to help develop the virtual tour, a huge creative cornerstone of the school, which was awesome," she said.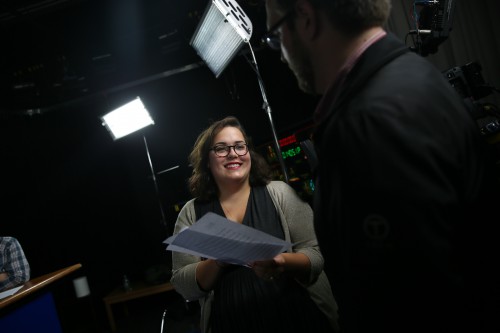 Directly after school, Bishop worked for a year as a freelancer.
"Freelancing is awesome," she said. "I've learned a lot from it. It keeps you working hard; it keeps you on your toes. You learn a lot about tax law and financing too."
Now, as a full-time digital producer at Suffolk, Bishop works mostly with interactive web and video.
"Our mission is to find the right students who want to come here and get those prospective students interested and engaged," Bishop said of the office's aim.
"It's also important on a personal level for me to get students where they want to go," Bishop said, as she manages a team of 10 student employees in the office. She worked with students as an undergrad that have moved to L.A. for jobs in motion graphics and other multimedia platforms and wants to see more students get the experience needed for their dream jobs.
"I've moved forward a lot in my career," Bishop said, "I've kind of mastered video production at this point and I'm moving into the realm of content strategy…I'm taking the next step."
While her job at Suffolk has changed her skill set, Bishop has also seen Suffolk change drastically since she began as a freshman in 2006.
"I've worked for four different departments here doing the same job, just because offices keep shifting and joining forces," Bishop said. "We have a new brand and it's all happened in just the last few years. We're focused and moving forward."
Bishop and the marketing and communications office have just launched the alumni magazine's online edition at suffolk.edu/magazine and hope to get more students involved in their projects.
Bishop believes that student voice is very important in her field of work, but also in other parts of the university and students' lives.
"I got my job just by cold calling offices. If you think it's a long shot to email or call someone, it may not be," Bishop said. "It can get you a lot farther than you think."
Bishop also believes that recent grads can be timid about voicing their opinions and ideas at their first job. Being able to give input on important projects as an undergrad was one of the most valuable experiences Bishop said she got from her student employment at Suffolk.
"You are important. Have faith in your own voice."
Leave a Comment