Eshoo and Lady Rams win first match of the season
The wait is over. The women's tennis team won its first match of the season against Anna Maria, pulling out a lopsided victory of 7-2.
The Lady Rams won five out of six singles matches, and lost one of its doubles matches. The five and six seeds for the Lady Rams' singles, Melissa Chermely and Abby Trigilio, did not lose a single game against Anna Maria.
A new addition to the Lady Rams also earned the team it's only first seed victory of the year thanks to freshman Aidiana Sagyndykova, from Almaty, Kazakhstan. She won her match 7-6, 7-5.
Rebecca Eshoo, the leader in wins for the Lady Rams in singles competition, was the only one who won both her singles and her doubles match. If the Lady Rams continue to improve in the GNAC, Eshoo, a sophomore will be a great player to have if they make it into the postseason.
"It feels great to have our first team win, it gives us more motivation to finish the season strong," said Eshoo, from Farmington, Conn.
Eshoo may be playing further down the seeding, but she is taking on every opponent and winning matches for the Lady Rams.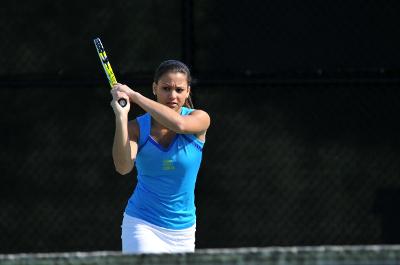 Eshoo has a singles record of 3-4, which may not appear to be stellar, but she is the only one who has a positive record for her seed, four, which is 2-1.
"Personally, winning both my doubles and singles gave me more confidence because this was my first doubles win of the season," said Eshoo. "Our team as a whole has a lot of confidence despite our losses. We go into each match with positive attitudes and determination to win."
The Lady Rams will have a tough week ahead with very crucial games, as they have to face conference opponent Simmons on Wednesday. After that, they have two days of rest before they have to go against Mount Ida. All of the Lady Rams games this week are at home.
There are no easy matches at this point in the season, but this new confidence and realization that the Lady Rams are still in the running for the postseason. It would appear Eshoo has plenty of confidence of not just her own abilities, but the abilities of all of her teammates as well.
"We are looking forward to pick up some wins this week at our upcoming conference matches," said Eshoo. "Simmons will be a tough match but we are prepared to rise to the occasion."
Hard work and will power has paid off for the Lady Rams, who were 0-6 going into their match against Anna Maria. With one conference win, all of a sudden this win-less team has become 1-1 in the GNAC, and fourth in the standings.
Will the Lady Rams start their first winning streak of the season? Suffolk will have to wait and find out.
Leave a Comment