Women's tennis still looking to find its form
The struggle continues for Suffolk University's women's tennis team, as it enters October with an overall 0-5 record.
The Lady Rams fell to Wentworth this past week 7-2 in total score. The only players who pulled out wins for the Lady Rams were Rebecca Eshoo and Melissa Chermely. Eshoo is now the leader for the Lady Rams in wins with a record of 2-3 in singles play.
Lizze Arkins, one of the top seeds for Suffolk, understands the need to win this upcoming week. It must be a great weight lifted off their shoulders to finally reach their first home game of the entire season.
"Its not so much a relief as it is excitement to finally have a home game and know that this is a team that we have been successful against in the past," said Arkins, senior, from Melrose. "Its important for our team to have a win at this point in our season for our confidence but also just to know that our hard work and dedication is making a difference."
The Lady Rams first home game will be against Anna Maria Saturday, October 5th. Anna Maria is a team that Suffolk has beaten in the past, so it is a good shot for its first conference win.
Before they get to return home, the Lady Rams must face Springfield on Thursday, which will put them at risk of being 0-6 before their first home game. As much as teams want to win every game, the conference games are still everything.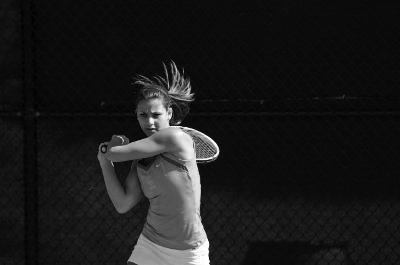 The 0-5 record was not all for nothing for the Lady Rams. With failure comes experience, and the they are going to need it. After Anna Maria, the Lady Rams have to face a second conference opponent in Simmons at home.
Winning is going to be everything this month, failing to record a win so far may hurt, but the Lady Rams will need to go into this month confidently that they can compete in every match.
"I feel that our game has definitely improved. Facing the tough opponents that we have so early on has been both a positive and negative thing," said Arkins. "Our individual game tends to increase when we are playing against better opponents as we try and rise to the occasion. However, our confidence has definitely suffered from not being able to clinch a win."
The Lady Rams only have seven games left this season, and only four of them are conference games. There is now added pressure for the Lady Rams to get the ball rolling, but it is not an easy road ahead of them either.
Tennis is an individual sport, so for college teams to win, it takes effort from every individual holding a racket. The Lady Rams won't let a bad record drag them down from trying to compete with their conference rivals.
"Each match and opponent we face makes us better as individual tennis players and as a team," said Arkins. "We hope to build upon both our wins and our loses."
Leave a Comment