Alt-J brings their UK melodies to Bank of America Pavilion
Famed Leed's band Alt-J returns to America to tour with their latest album An Awesome Wave, uplifting fans worldwide. The early September Fall season brought along the four-piece British band and their light tunes to the Bank of America Pavilion located on Boston's legendary Wharf, inviting fans to an evening of perfect melodies and harbor breezes.
Fans of all ages sang and danced along to their favorite songs as Alt-J performed under colorful, alternating lights and seemed to deliver an essence that they seemed to be enjoying themselves just as much as the members of the audience.
Hosted under a large white tarp, the stadium was filled with a mellow four-piece orchestra that delivered unique tunes that met the par and clearly exceeded the Friday night expectations of audience members.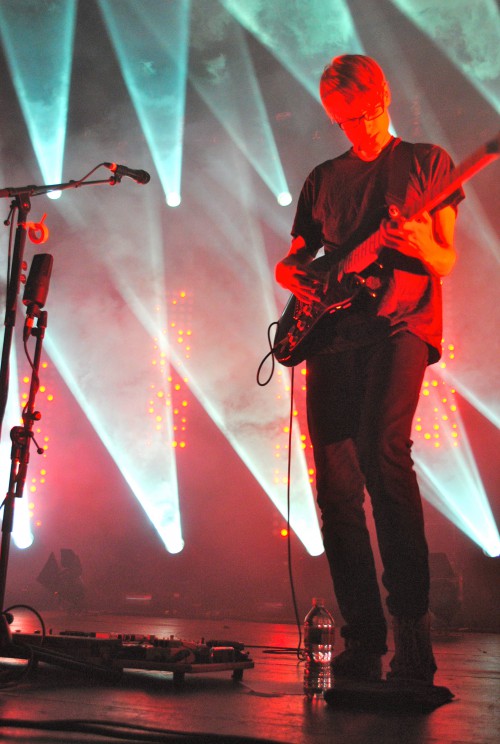 For the better part of their performance, Alt-J looked out upon a sea of fans, which held their hands in their air as they swayed to the entire show. Playing about a 13-song set, Alt-J's complicated rhythms seemed to flow so perfectly as the members of the band performed ever-so effortlessly, exposing Boston to a distinct sound.
It was apparent that most members of the audience had been looking forward to this particular show by the international artists for quite some time as they danced along to every song – not a member of the audience was posted in their seat for more than a song or two. It seemed that plastic clear beach balls with blinking multi-colored lights flying through the audience illuminated the faces of pleased listeners as they popped them in the air, hoping to catch it in the wave of a new note them the song.
Set upon the stage was vocalist/guitarist Joe Newman, who delivered the main set of vocals to the performance as he was accompanied by steady drumming by Thom Green and consistent guitar interplay thanks to Gwil Sainsbury who also takes part in guitar/vocals. Alt-J also consists of keyboardist Gus Unger-Hamilton, who was set stage right as he swiftly danced along while playing the keyboard during many periods during the performance.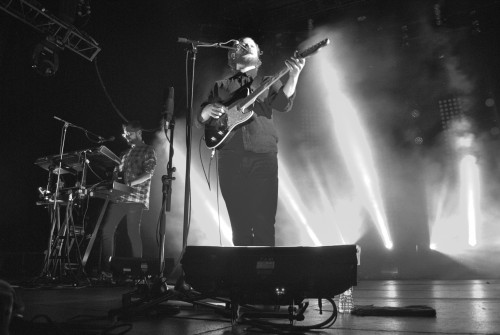 Serenading the audience with popular songs like "Tessellate" and "Matilda," Alt-J grasped the perfect concept of delivering a performance that was not only relaxing and soothing, but also fun and beautiful from a listener's standpoint. Having only one album to create an hour-long performance for attendees, Alt-J provided the perfect performance with a few extended riffs and took their time playing each song, which served to be a refreshing change from most live concert performances.
An Awesome Wave was first released in Europe in Spring 2013 and later released in the United States a few months later in the fall, where Alt-J quickly rose to the top of English indie rock playlists as they gained new fans from all over the globe. Popular tracks including "Breezeblocks" were initially released on
Alt-J's earlier four-track EP and then carried over to their debut album due to popular demand. Alt-J showcasing as the prime example of artists who present really excellent debut music, honestly spread like a global wildfire.
Leave a Comment